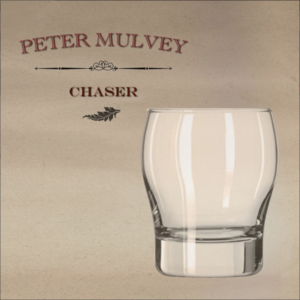 Featuring break music from
Chaser
by Peter Mulvey

Johnny Mathis "It's Delovely" from Swing Softly
The Ames Brothers "Sentimental Me" from The Best of the Ames Brothers
George Shearing and the Montgomery Brothers "Stranger In Paradise" from George Shearing and the Montgomery Brothers
Eydie Gorme "Tiptoe Through the Tulips" from Eydie Gormé Vamps the Roaring 20's
Vic Damone "Out Of Nowhere" from Vic Damone Sings
Vicky Lane "Love Isn't Born (It's Made)" from I Swing For You
The Three Suns "Lisbon Antigua" from On a Magic Carpet
Teddy Phillips and His Orchestra "Tonight You Belong To Me" from A Night At the Aragon
Tony Pastor w/ Artie Shaw & His Orchestra "Small Fry" from 22 Original Big Band Recordings: Artie Shaw
Glenn Miller & His Orchestra "Caribbean Clipper" from The Unforgettable Glenn Miller
Frank Sinatra, Connie Haines & the Pied Pipers w/ Tommy Dorsey and His Orchestra "Let's Get Away From It All" from These Were Our Songs (1941)
Eddie Cantor "Makin' Whoopee" from Happy Days Are Here Again!
Fats Waller "The Meanest Thing You Ever Did Was to Kiss Me" from One Never Knows, Do One?
Hildegarde "Darling, Je Vous Aime Beaucoup" from Those Wonderful Thirties: The Stars of Broadway, Night Clubs and Vaudeville [LOCAL]
Doris Day "Stars Fell On Alabama" from Day By Night – EP
Perry Como "Love Of My Life" from Perry Como's Wednesday Night Music Hall
Nat King Cole "Sweet Lorraine" from Nat King Cole
Bing Crosby "Deep Purple" from (((45 RPM)))
June Christy and Stan Kenton "Lonely Woman" from Duet
The Mills Brothers "Paper Doll" from The Mellow Years
Johnny Hartman "Tenderly" from All of Me
Vera Lynn "Don't Cry My Love" from (((45 RPM)))
Frank Sinatra w/ Count Basie & His Orchestra "I've Got You Under My Skin" from Sinatra At The Sands
Dick Powell "'Cause My Baby Says It's So" from The Dick Powell Song Book
Bob Hope and Shirley Ross "Two Sleepy People" from The Classic Hoagy Carmichael
Jim Reeves "Carolina Moon" from The Magic Mood of Jim Reeves
Dean Martin "Sway" from Hey, Brother, Pour the Wine
Laurindo Almeida "Fly Me To the Moon" from Let's Bacardi Party!
Muriel Lane w/ Woody Herman "G'bye Now" from These Were Our Songs (1941) [LOCAL]