December 11, 2021 Playlist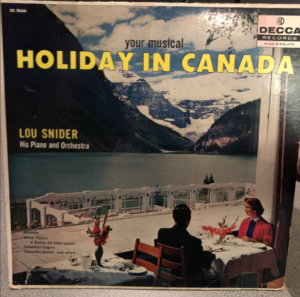 Featuring break music from
Your Musical Holiday In Canada
by Lou Snider, His Piano and Orchestra

Tommy Dorsey & His Orchestra "Looking Around Corners For You" from The Complete Tommy Dorsey, Vol. III (1936-1937)
Billy Butterfield and His Orchestra "Blue Moon" from The Uncollected: Billy Butterfield and His Orchestra (1946)
Judy Starr w/ Hal Kemp & His Orchestra "I've Got A Pocketful Of Dreams" from The Great Band Era (1938)
George "Bon Bon" Tunnell w/ Jan Savitt and the Top Hatters "Make Believe Island" from These Were Our Songs (1940)
Helen Forrest w/ Benny Goodman & His Orchestra "What's the Matter With Me?" from Benny and Helen: The Original Recordings of the 1940s
Dick Van Dyke "Put On A Happy Face (feat. The Ray Charles Singers & Enoch Light and His Orchestra)" from Songs I Like (feat. The Ray Charles Singers & Enoch Light and His Orchestra) [REQUEST]

Lena Horne "I Wanna Be Around" from Feelin' Good
Pearl Bailey "They're Either Too Young or Too Old" from Naughty But Nice!
Tony Bennett w/ Count Basie & His Orchestra "Fascinatin' Rhythm" from In Person!
Eydie Gorme "Frenesi" from Eydie Gorme Delights
Dakota Staton "You Showed Me The Way" from The Late Late Show
Dinah Washington "Cry Me A River" from What A Diff'rence A Day Makes [REQUEST]

Frank Sinatra "Oh, You Crazy Moon" from Moonlight Sinatra
Sammy Davis, Jr. "I've Heard That Song Before" from Sammy Awards
Perry Como "Between the Devil and the Deep Blue Sea" from Saturday Night with Mr. C.
Rosemary Clooney "Come On-a My House" from The Essential Rosemary Clooney [REQUEST]

George Shearing Quintet "Winter Wonderland" from Christmas With the George Shearing Quintet
Brenda Lee "Papa Noel" from Down the Chimney Tonight
Paul Whiteman "Happy Feet" from Top Hits Of the 1930s
Charlie Barnet "Make Believe Ballroom" from The Best Loved Bands Of All Time
Artie Shaw "Stardust" from The Artie Shaw Story [REQUEST]

Larry Stewart w/ Leo Reisman & His Orchestra "(It Will Have To Do) Until T he Real Thing Comes Along" from Paper Moon soundtrack
Nina Simone "Don't Let Me Be Misunderstood" from The Best of Nina Simone
Sarah Vaughan "Easy Come, Easy Go Lover" from All Time Favorites By
June Christy "Night People" from Ballads for Night People
Nat King Cole "There's Love" from L-O-V-E
Dave Brubeck "It's a Raggy Waltz" from Dave Brubeck's Greatest Hits
Johnny Hartman "To Each His Own" from And I Thought About You
Fred Astaire & Oscar Peterson "Dancing In the Dark" from Steppin' Out: Astaire Sings
Bobby Darin "I Hadn't Anyone Till You" from Heavy Petting Mix
Hildegarde "Cheek To Cheek" from Darling, Je Vous Aime Beaucoup