December 31, 2016 Playlist
Artists We Lost In 2016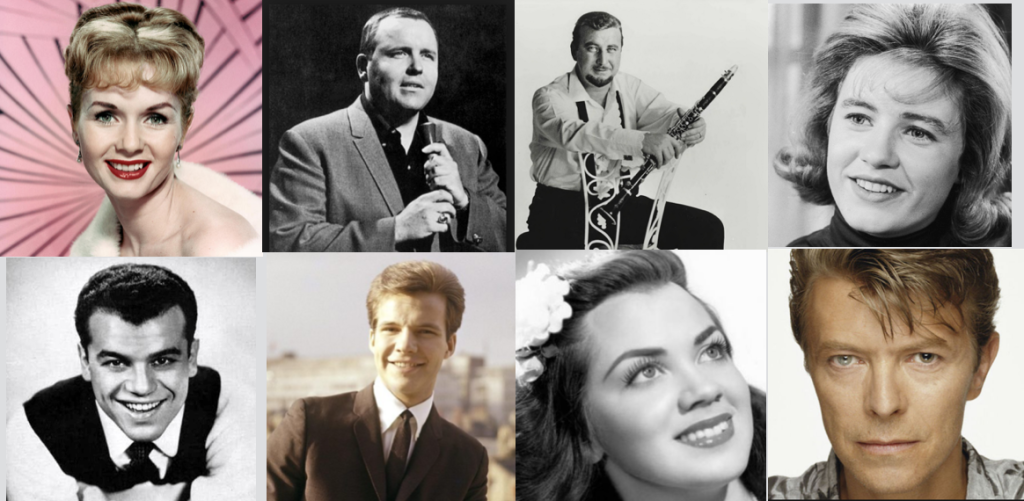 Debbie Reynolds and Girly Chorus "All I Do Is Dream Of You" from Singin' in the Rain (Original Motion Picture Soundtrack)
Jack Jones "This Could Be the Start Of Something Big" from Let's Bacardi Party!
Laurindo Almeida "Fly Me to the Moon" from Let's Bacardi Party!
Herb Alpert "Tijuana Taxi" from !!Going Places!! [REQUEST]
Frank Sinatra and Antonio Carlos Jobim "The Girl From Ipanema" from Nothing But the Best
Walter Wanderley "Summer Samba (So Nice)" from Pop Memories of the '60s
Nancy Wilson "What Are You Doing New Year's Eve?" from Christmas Cocktails [REQUEST]
Elvis Presley "Cotton Candy Land" from Elvis Sings For Children and Grownups Too! [REQUEST]
Bobby Darin "Gyp the Cat" from The Best of Bobby Darin
Bobby Vee "The Night Has A Thousand Eyes" from The Night Has A Thousand Eyes
Julius La Rosa "Eh, Cumpari" from Moments To Remember: The Golden Hits of the '50s and '60s
Patty Duke "Everything But Love" from Everything But Love
Glenn Miller and His Orchestra w/ Male Chorus & the Modernaires "It Happened In Sun Valley" from The Unforgettable Glenn Miller
Mitch Miller & The Gang "Drunk Last Night" from Fireside
Debbie Reynolds "Belly up to the Bar, Boys" from The Unsinkable Molly Brown (Original Motion Picture Soundtrack)
Lawrence Welk "Bubbles In the Wine" from Happy Them Again!
Bernie Leighton "Enjoy Yourself/Keep It Gay/With A Little Bit Of Luck/Get Me To the Church" from Dancing In Peacock Alley
Andy Williams "Moon River" from Moon River [REQUEST]
Fats Waller "You're My Dish" from One Never Knows, Do One?
Johnny Otis "Happy New Year, Baby" from Big Band Christmas
Tony Pastor w/ Artie Shaw & His Orchestra "Small Fry" from 22 Original Big Band Recordings: Artie Shaw
Kitty Kallen w/ Harry James & His Orchestra "It's Been A Long, Long Time" from Best of Big Bands: Harry James
Keely Smith "The Nearness Of You" from Swingin' Pretty
Pete Fountain w/ Lawrence Welk "San Antonio Rose" from Lawrence Welk Plays Dixieland
Debbie Reynolds "Aba Daba Honeymoon" from Mairzy Doats – 44 Wacky Hits
Bing Crosby and Rosemary Clooney "How About You?" from Fancy Meeting You Here
Al Caiola & Riz Ortolani "Holiday On Skis" from Christmas Cocktails
Dean Martin "Watching the World Go By" from Capitol Collectors Series
Sammy Kaye and His Swing 'n' Sway Orchestra "Desafinado" from Come Dance With Me
George Shearing/Billy May "Snowfall/Snowfall Cha-Cha" from Christmas Cocktails 2
Glenn Yarbrough "Baby, The Rain Must Fall" from Pop Memories Of the '60s
Louis Armstrong & Ella Fitzgerald "They All Laughed" from Ella and Louis Again (Original Remastering from 1957)
David Bowie and Bing Crosby "Little Drummer Boy / Peace On Earth" from Christmas Classics
Guy Lombardo & His Orchestra "Auld Lang Syne" from Happy Days Are Here Again!