December 9, 2017 Playlist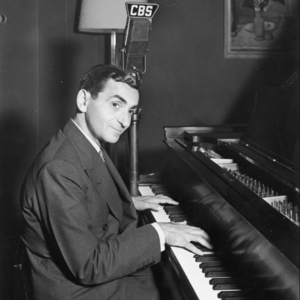 Celebrating the music of Irving Berlin!

Featuring break music from
Mr. Show Business – Irving Berlin
by Ken Thorne & His Orchestra

The Boston Pops Orchestra (John Williams, conductor) "There's No Business Like Show Business" from Encore!
Johnny Hartman "Blue Skies" from All of Me
Bing Crosby "Marie" from Bing Crosby Treasury: The Songs I Love
Mel Torme "Puttin' On the Ritz" from Puttin' On the Ritz
Ella Fitzgerald & Louis Armstrong "Cheek To Cheek" from Always – the Music of Irving Berlin
The Boswell Sisters "Alexander's Ragtime Band" from Irving Berlin: A Hundred Years
Enric Madriguera & His Hotel Biltmore Orchestra "Let's Have Another Cup Of Coffee" from Paper Moon Soundtrack
Eddie Cantor "Mandy" from The Best of Eddie Cantor
Dick Powell "I've Got My Love To Keep Me Warm" from Lullaby Of Broadway
Fred Astaire "Let Yourself Go" from The Early Years at RKO
Henry Hall "Easter Parade" from Top Hits of the 1930s
Judy Garland and Fred Astaire "A Couple Of Swells" from Easter Parade
Peter Lawford & Judy Garland "A Fella With An Umbrella" from Easter Parade
Ethel Merman "Anything You Can Do I Can Do Better" from Annie Get Your Gun
Bing Crosby & Rosemary Clooney "Isn't This a Lovely Day" from Wonderful Together
Dinah Shore "Doin' What Comes Naturally" from Irving Berlin: A Hundred Years
Irving Berlin "Oh, How I Hate To Get Up In the Morning" from This Is The Army
Bing Crosby "This Is A Great Country" from This Land Is Your Land
Kate Smith "God Bless America" from These Were Our Songs (These Were Our Girls)
Vera Lynn "It's A Lovely Day Tomorrow" from Sincerely Yours
Gordon Jenkins and His Orchestra and Chorus "They Like Ike" from Call Me Madam
Bing Crosby & Danny Kaye "The Old Man – Gee, I Wish I Was In the Army" from White Christmas
Bing Crosby, Danny Kaye, Peggy Lee & Trudy Stevens "Snow" from White Christmas
Rosemary Clooney "Love, You Didn't Do Right By Me" from The Essential Rosemary Clooney
Sarah Vaughn "They Say It's Wonderful" from Always – the Music of Irving Berlin
Johnny Mathis "What'll I Do" from A Personal Collection
Tony Bennett "Always" from Always
Ella Fitzgerald "I'm Putting All My Eggs In One Basket" from The Irving Berlin Songbook
Hildegarde "A Pretty Girl Is Like A Melody" from Darling, Je Vous Aime Beaucoup
Arthur Schutt "I Love A Piano" from Irving Berlin: A Hundred Years
Ethel Waters "Suppertime" from Stormy Weather
Marilyn Monroe "You'd Be Surprised" from Hear Them Again!
Billie Holiday "This Year's Kisses" from 25 Greatest Hits