February 25, 2023 Playlist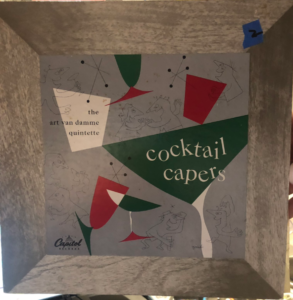 Featuring break music from
Cocktail Capers
by the Art Van Damme Quintette
New Orleans' Sweet Emma and Her Preservation Hall Jazz Band "Clarinet Marmalade" from New Orleans' Sweet Emma and Her Preservation Hall Jazz Band
Ramsey Lewis "Hey Mrs. Jones" from Goin' Latin on GRP. Genre: Pop
Della Reese "I'm Beginning To See the Light" from Della
Bing Crosby with Bob Scobey's Frisco Jazz Band "Mack the Knife" from Bing With A Beat
Chet Baker "There Will Never Be Another You" from Putumayo Presents: Jazz [REQUEST]

Dinah Shore "Mood Indigo" from NBC's Chamber Music Society of Lower Basin Street
June Christy "Spring Can Really Hang You Up the Most" from The Song Is June! on CAPITOL CATALOG MKT (C92).
Carmen MacRae "If Love Is Good To Me" from Book Of Ballads
Dean Martin "Return To Me" from That's Amore: The Best of Dean Martin
Ambrose and His Orchestra "I've Got You On My Mind" from Just One Of Those Things: A Tribute To Cole Porter
Jimmie Lunceford "Baby, Are You Kiddin'?" from Jukebox Hits 1935-1947 on Acrobat Music
Lawrence Welk "Bubbles In the Wine" from Happy Days Are Here Again!
Artie Shaw and His Orchestra "Frenesi" from The Great Band Era (1940)
Anita O'Day with Gene Krupa and His Orchestra "Stop, The Red Light's On" from Gene Krupa, His Orchestra and Anita O'Day featuring Roy Eldridge
Frank Sinatra "New York, New York" from Sinatra Reprise: The Very Good Years [REQUEST]
Woody Herman and His Orchestra "Your Father's Mustache" from Bijou
Doris Day "Que Sera, Sera (Whatever Will Be, Will Be)" from Whatever Will Be, Will Be [REQUEST]

The Vince Guaraldi Trio "Cast Your Fate To the Wind" from Pop Memories Of the '60s
Arthur Lyman Group "Caravan" from Ocean's Eleven (Music from the Motion Picture) on Warner Records. Genre: Soundtrack [REQUEST]
Nat "King" Cole & George Shearing "Pick Yourself Up" from Nat King Cole Sings/George Shearing Plays on Capitol Records. Genre: Jazz
Music In the Russ Morgan Manner "The Merry-Go-Round Broke Down" from Top Hits Of the 1930s
Evelyn Knight "Dance With A Dolly" from These Were Our Songs (These Were Our Girls)
Connie Francis "Melody Of Love" from Greatest American Waltzes
Judy Garland "Over the Rainbow" from The Very Best of Judy Garland [REQUEST]

Dick Powell "Fair and Warmer" from Lullaby of Broadway
Fred Astaire "Top Hat, White Tie and Tails" from The Early Years at RKO on Masterworks
Johnny Hartman "The Very Thought of You" from The Johnny Hartman Collection 1947-1972 [REQUEST]
Julie London "How About Me" from Around Midnight
Ella Fitzgerald "Let's Fall In Love" from Ella Fitzgerald Sings The Harold Arlen Songbook (Expanded Edition)
Vic Damone "Out of Nowhere" from That Towering Feeling
Bob Hope and Shirley Ross "Two Sleepy People" from The Classic Hoagy Carmichael