January 20, 2018 Playlist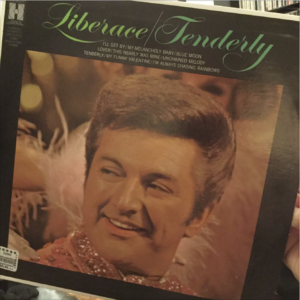 Featuring break music from
Tenderly
by Liberace

Dean Martin "Sway" from Hey, Brother, Pour the Wine
June Christy "It's a Most Unusual Day" from The Best of June Christy: The Jazz Sessions
Lou Rawls "Stormy Weather" from Hooray For Love: The Great Gentlemen of Song, Vol. 1
Peggy Lee "Fever" from The Very Thought Of You: A Romantic Crooners Collection
Jan Garber & His Greater Columbia Records Orchestra "Puttin' On the Ritz" from Irving Berlin: A Hundred Years
Jack Teagarden "'Deed I Do" from Father of Jazz Trombone
The Andrews Sisters and Dick Haymes "Pack Up Your Troubles In Your Old Kit Basket" from Pack Up Your Troubles In Your Old Kit Basket [REQUEST]
Bing Crosby w/ Paul Whiteman and His Orchestra "Do You Ever See A Dream Walking?" from King Of the Crooners
Pinky Tomlin w/ Jimmie Grier & His Orchestra "The Object Of My Affection" from Paper Moon soundtrack
Mildred Bailey "It's A Woman's Prerogative" from Jazz Infusion – Mildred Bailey
Johnny Hartman "Fly Me To the Moon" from The Johnny Hartman Collection (1947-1972)
Rosemary Clooney "You're After My Own Heart" from Come On-a My House
Nat King Cole & George Shearing "Azure-Te" from Nat King Cole Sings/The George Shearing Quintet Plays
Ella Fitzgerald "I'm Getting Sentimental Over You" from The Intimate Ella
Frank Sinatra "Hello, Young Lovers" from September Of My Years
Gordon MacRae & Jo Stafford "Love's Old Sweet Song" from Memory Songs
Judy Garland "Over the Rainbow" from The Very Best of Judy Garland [REQUEST]
Artie Shaw & His Orchestra "I Cover The Waterfront" from Backbay Shuffle
Billie Holiday "I've Got A Date With A Dream" from 25 Greatest Hits
Hildegarde "Honey-Coloured Moon" from Darling, Je Vous Aime Beaucoup
Maxine Sullivan "I'm happy About the Whole Thing" from Loch Lomond – The Essential Maxine Sullivan
Al Martino "Mary In the Morning" from Mary In the Morning
The Ray Charles Singers "Love Me With All Your Heart" from Pop Memories Of the '60s [REQUEST]
Herb Alpert and the Tijuana Brass "More and More Amor" from !!Going Places!!
Elvis Presley with the Royal Philharmonic Orchestra "Just Pretend" from The Wonder Of You
Perry Como "Letters (Medley): Almost Like Being In Love; Little Man You've Had A Busy Day; Gypsy In My Soul; Wiffenpoof Song" from Saturday Night With Mr. C.
Bobby Darin "Beyond the Sea" from The Hit Singles Collection
Lena Horne "Ridin' On the Moon" from Stormy Weather