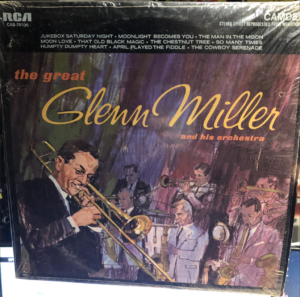 Featuring break music from
The Great Glenn Miller and His Orchestra
Nat King Cole "Thanks To You" from L-O-V-E
Claude Thornhill "When You Wish Upon A Star" from Happy Days Are Here Again!
Dinah Shore w/ Henry Levine and His Dixieland Octet "Body and Soul" from NBC's Chamber Music Society of Lower Basin Street
Billy Butterfield & His Orchestra "Blue Moon" from The Uncollected: Billy Butterfield and His Orchestra (1946)
Dean Martin "If Love Is Good To Me" from That's Amore: The Best Of Dean Martin
Jimmy Durante "Young At Heart" from As Time Goes By: The Best of Jimmy Durante
Ella Fitzgerald "You Couldn't Be Cuter" from The Jerome Kern Songbook
Frank Sinatra "Nice 'n' Easy" from Nice 'n' Easy
Pearl Bailey "Satin & Silk" from Naughty But Nice
Don Ho "Tiny Bubbles" from Tiny Bubbles [REQUEST]

Herb Alpert & The Tijuana Brass "A Taste Of Honey" from Pop Memories Of the '60s [REQUEST]

Gordon MacRae "All the Things You Are" from The Great Hit Sounds Of Gordon MacRae [REQUEST]

Jimmie Lunceford "It Had to Be You" from Jukebox Hits 1935-1947
The Ink Spots "Whispering Grass (Don't Tell the Trees)" from These Were Our Songs (1940)
Jo Stafford "You Belong To Me" from Alone and Together [REQUEST]
The Andrews Sisters "Bei mir bist du Schön" from The Best Of The Andrews Sisters
Tommy Dorsey and His Orchestra "Keepin' Out Of Mischief Now" from The Complete Tommy Dorsey, Vol. III (1936-1937)
Jack Teagarden "Beale Street Blues" from Father Of Jazz Trombone
Enric Madriguera & His Hotel Biltmore Orchestra "Let's Have Another Cup Of Coffee" from Paper Moon Soundtrack
Rudy Vallee "Outside" from Heigh-Ho Everybody, This Is Rudy Vallee
Harry Babbit w/ Kay Kyser & His Orchestra "If I Only Had A Brain" from Best of Big Bands: Kay Kyser
Lena Horne "A Wonderful Day Like Today" from Feelin' Good
Keely Smith "You're Driving Me Crazy" from Swingin' Pretty
Tony Bennett / Count Basie Big Band "Fascinating Rhythm (Live)" from In Person
Eydie Gorme & Steve Lawrence "Besame Mucho" from Eydie Gorme's Delight
Rosemary Clooney "Mangos" from The Essential Rosemary Clooney
Erroll Garner with Piano, Bass, and Drums "El Papa Grande" from Closeup In Swing
Dinah Washington "Time After Time" from What a Diff'rence a Day Makes! (Expanded Edition)
Sammy Davis, Jr. "Pennies From Heaven" from Sammy Awards
Johnny Hartman "Unforgettable" from The Johnny Hartman Collection 1947-1972
June Christy "My Ship" from Ballads for Night People
Perry Como "Twilight On the Trail/Theme (You Are Never Far Away)" from Saturday Night With Mr. C.