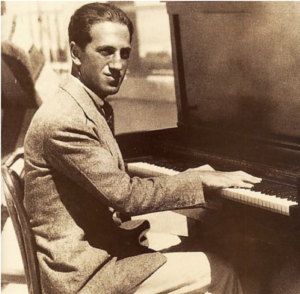 Featuring break music from
"The Piano Rolls, Vol. 2"
by George Gershwin
Frank Sinatra "Old Devil Moon" from Songs for Swingin' Lovers!
Keely Smith "On the Sunny Side Of the Street" from Keely Smith
Tony Bennett "Rags to Riches" from It's Tony Bennett [REQUEST]
Stan Kenton and His Orchestra "It's a Most Unusual Day (feat. June Christy)" from Road Show (Live) [feat. June Christy & The Four Freshmen]
Johnny Hartman "I See Your Face Before Me" from Songs from the Heart (feat. Ralph Sharon, Jay Cave, Christy Febbo & Howard McGhee) [Remastered 2013]
Jimmie Davis "My Mary" from Paper Moon soundtrack
Denny Dennis w/ Roy Fox & His Orchestra "What A Difference A Day Made" from Top Hits Of the 1930s
Martha Raye w/ Dave Rose and His Orchestra "Once In A While" from The Early Years
Bunny Berigan and His Orchestra "Caravan" from The Great Dance Bands Of the '30s and '40s [LOCAL]
Artie Shaw and His Orchestra "If I Had You" from 22 Original Big Band Recordings
Shirley Bassey "And We Were Lovers" from And We Were Lovers [REQUEST]
Carmen McRae "It Takes A Whole Lot Of Human Feeling" from Europa Jazz: Carmen McRae/Joe Pass/Larry Bunker/Ray Brown
The Ink Spots "It's A Sin To Tell A Lie" from The Ink Spots
Sammy Davis, Jr. "Bewitched" from Mood To Be Wooed
Nat King Cole "That's All" from Hooray For Love: The Great Gentlemen Of Song
Barry Manilow "Copacabana" from The Complete Collection and Then Some…
Rosemary Clooney "Mangos" from The Essential Rosemary Clooney
The Crew Cuts "Sh-Boom (Life Could Be A Dream)" from I.Q. soundtrack [REQUEST]
Patti Page "Allegheny Moon" from Moments To Remember: The Golden Hits of the '50s and '60s
Stan Getz & Charlie Byrd "Desafinado" from Pop Memories Of the '60s
Earl Hines Trio "Walkin' My Baby Back Home" from Earl "Fatha" Hines
Bob Eberly & Helen O'Connell w/ Jimmy Dorsey & His Orchestra "Brazil" from The Best of Jimmy Dorsey [REQUEST]
Anita O'Day w/ Gene Krupa & His Orchestra "Georgia On My Mind" from Gene Krupa, His Orchestra & Anita O'Day, Featuring Roy Eldridge
Fats Waller "If It Isn't Love" from One Never Knows, Do One?
Dick Powell "By A Waterfall" from Lullaby of Broadway
Hoagy Carmichael "Baltimore Oreole" from Hoagy Carmichael Sings Hoagy Carmichael
Louis Armstrong "A Kiss to Build a Dream On" from All Time Greatest Hits
Ed Ames "Inchworm" from My Kind Of Songs
Ella Fitzgerald "Midnight Sun" from The Johnny Mercer Songbook
Vic Damone "The Touch of Your Lips" from That Towering Feeling
Doris Day "Under a Blanket of Blue" from Day By Night