November 7, 2020 Playlist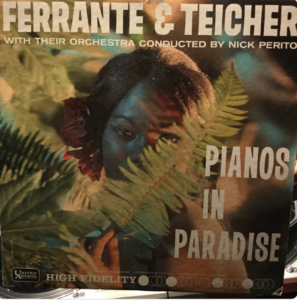 Featuring break music from
Pianos In Paradise
by Ferrante & Teicher

* * * * *
Bing Crosby "Ballin' The Jack" from Bing Crosby Treasury: The Songs I Love
The George Shearing Quintet "Watch Your Step" from Latin Escapade
Erroll Garner "Groovy-Day" from Erroll Garner Encores In Hi Fi
Jonah Jones "On The Street Where You Live" from Muted Jazz
Della Reese "Until The Real Thing Comes Along" from Special Delivery
Ginny Simms and Harry Babbitt w/ Kay Kyser & His Orchestra "Why Don't We Do This More Often?" from The Stardust Ballroom
Pat Friday, Ray Eberle and the Modernaires w/ Glenn Miller and His Orchestra "Serenade In Blue" from The Unforgettable Glenn Miller
Pat O'Connor w/ Billy Butterfield and His Orchestra "Bidin' My Time" from The Uncollected: Billy Butterfield and His Orchestra
Gene Conklin w/ Freddy Martin & His Orchestra "Nola" from The Uncollected: Freddy Martin, Vol. 2
Francis Craig "Beg Your Pardon" from Remembering The '40s (1948)
Russ Columbo "I Only Have Eyes For You" from I Only Have Eyes For You
Annette Hanshaw "Would You Like to Take a Walk?" from Top Hits of the 1930s
Harry Richman "Puttin' On the Ritz" from There's No Business Like Show Business: The Magical Songs of Irving Berlin
Fred Astaire "The Way You Look Tonight" from Pick Yourself Up!
Hoagy Carmichael with the Chickadees & Orchestra "Bubble-Loo, Bubble-Loo" from Hoagy Carmichael Sings & Plays Hoagy Carmichael
Jimmy Durante "Hi Lili, Hi Lo" from As Time Goes By: The Best of Jimmy Durante
Frank Sinatra "Don't Wait Too Long" from September Of My Years
Lena Horne "Who Can I Turn To?" from Feelin' Good
The Romantic Strings with Two Harps (Richard Vaughn, conductor) "Moonlight Serenade" from Dance Party
Johnny Hartman "As You Desire Me" from The Johnny Hartman Collection (1947-1972)
Margaret Whiting "A Tree In the Meadow" from Remembering The '40s (1948)
Perry Como "My Cup Runneth Over" from The Best of Perry Como
Hildegarde "There's A Small Hotel" from Darling, Je Vous Aime Beaucoup [LOCAL]
Fats Waller "Red Hot Dan" from A Handful of Keys
Jack Teagarden "I Hope Gabriel Likes My Music" from Father of Jazz Trombone
Sam Browne "Somebody's Thinking of You Tonight" from Top Hits of the 1930s
Vera Lynn "Mexicali Rose" from Sincerely Yours
The Crew Cuts "Sh-Boom (Life Could Be A Dream)" from I.Q. soundtrack
The Chordettes "Mr. Sandman" from Mr. Sandman [LOCAL]
Jim Reeves "Margie" from The Mellow Magic of Jim Reeves
George Gershwin "Novelette In Fourths" from Gershwin Plays Gershwin: The Piano Rolls
Dean Martin "Pretty Baby" from That's Amore: The Best of Dean Martin
Ben Bernie and His Orchestra "Au Revoir-Pleasant Dreams" from Happy Days Are Here Again!