October 24, 2020 Playlist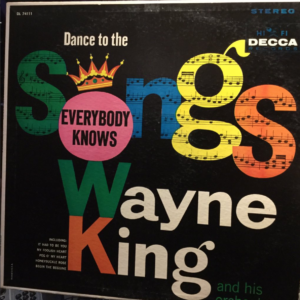 Featuring break music from
Dance to the Songs Everybody Knows
by Wayne King & His Orchestra

Nat King Cole "I Just Found Out About Love" from Unforgettable
Ella Fitzgerald "Let's Take A Walk Around the Block (alternate take)" from The Harold Arlen Songbook
Frank Sinatra w/ Count Basie & His Orchestra "Where Or When" from Sinatra At The Sands
Billy Vaughn & His Orchestra "A Swingin' Safari" from Pop Memories Of the '60s
Les Baxter, His Chorus and Orchestra "Unchained Melody" from Moments To Remember: The Golden Hits of the '50s and '60s
Paula Kelly and the Modernaires w/ Glenn Miller and His Orchestra "Sweeter Than the Sweetest" from The Unforgettable Glenn Miller
Carmen Cavallaro and His Orchestra "Heaven Drops Her Curtain Down" from Stardust Ballroom
Judy Garland "I'm Always Chasing Rainbows" from The Very Best of Judy Garland
The King Sisters w/ Frank DeVol's Orchestra "When My Dreamboat Comes Home" from The Uncollected: The King Sisters with Frank DeVol's Orchestra (1947)
Bob Eberly & Helen O'Connell w/ Jimmy Dorsey & His Orchestra "Green Eyes" from Remembering The '40s (1941-1942)
Hoagy Carmichael "Swing High" from Hoagy Carmichael's Having A Party
Louis Prima "Pennies From Heaven" from Spring Chicken. [REQUEST]
Louis Armstrong and His All Stars "Ain't Misbehavin'" from Ain't Misbehavin'
Fats Waller "E-Flat Blues" from One Never Knows, Do One?
Mildred Bailey "I Used To Be Colour Blind" from Jazz Infusion
Jack Teagarden "Impromptu Ensemble No. 1" from The Father Of Jazz Trombone
Dick Powell "Did I Remember" from The Dick Powell Songbook
Dick Van Dyke "Nice Work If You Can Get It" from Songs I Like
Johnny Mathis "Easy To Say (But So Hard To Do)" from Swing Softly
Della Reese "What's The Reason I'm Not Pleasin' You" from Special Delivery
Martin Denny "Harlem Nocturne" from Another Taste Of Honey!
The George Shearing Quintet with String Choir "Autumn Leaves" from Velvet Carpet
Nancy Wilson "Who Can I Turn To (When Nobody Needs Me)" from Gentle Is My Love
Perry Como "Round and Round" from Round and Round
Eddie Cantor "Makin' Whoopee" from Happy Days Are Here Again!
Bing Crosby "My Love" from The Bing Crosby Collection, Vol. III
Ozzie Nelson & His Orchestra "About A Quarter To Nine" from Paper Moon Soundtrack
Guy Lombardo and His Royal Canadians "Intermezzo (A Love Story)" from Remembering The '40s (1941)
Glen Gray and His Casa Loma Orchestra "No-Name Jive" from The Uncollected: Glen Gray and The Casa Loma Orchestra (1939-1940)
Johnny Hartman "The Very Thought Of You" from The Johnny Hartman Collection (1947-1972)
Dinah Washington "I Could Write A Book" from Compact Jazz: Dinah Washington
Jimmy Durante "As Time Goes By" from Sleepless In Seattle soundtrack
The Earl Hines Trio "Moonlight In Vermont" from Earl "Fatha" Hines