September 15, 2018 Playlist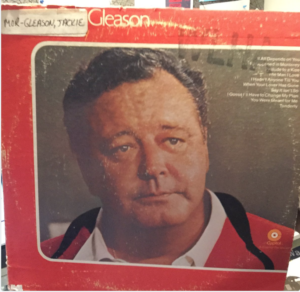 Featuring break music from
"Tenderly"
by Jackie Gleason

Perry Como "Papa Loves Mambo" from Today & Yesterday: A Celebration in Song
Louis Armstrong "Skokiaan" from All-Time Greatest Hits
Rosemary Clooney "Give Me the Simple Life" from The Classic Rosemary Clooney
Dean Martin "Canadian Sunset" from A Winter Romance
Dinah Washington "September In the Rain" from September In The Rain [REQUEST]
Jeanne Aubert & Jack Whiting w/ The Palace Theatre Orchestra "You're The Top" from Cole Porter: The Ultimate Collection [REQUEST]
Bing Crosby "Let's Try Again" from The Bing Crosby Collection, Vol. III
Kate Smith w/ Jack Miller & His Orchestra "Bei Mir Bist du Schon" from A String Of Pearls: Great Stars of the '40s
Glen Gray & His Casa Loma Orchestra "Tuxedo Junction" from The Uncollected: Glen Gray and the Casa Loma Orchestra (1939-1940)
Glenn Miller & His Orchestra "Boulder Buff" from The Unforgettable Glenn Miller
Lawrence Welk "Bubbles In the Wine" from Happy Days Are Here Again!
Jimmy Durante "I'll See You In My Dreams" from As Time Goes By: The Best of Jimmy Durante
Martin Denny "Satin Doll" from Another Taste Of Honey!
Peggy Lee "Is That All There Is?" from Is That All There Is?
The Melachrino Orchestra "Liebestraum" from Music For Two People Alone
Earl Hines "Lazy River" from At the Party
Nancy Wilson "Time After Time" from Gentle Is My Love
Johnny Hartman and John Coltrane "They Say It's Wonderful" from John Coltrane and Johnny Hartman
Eydie Gorme "Besame Mucho" from Eydie Gorme's Delights
Jack Teagarden "Shine" from Father of Jazz Trombone
Maxine Sullivan "Midnight" from Loch Lomond – The Essential Maxine Sullivan
Fats Waller and His Rhythm "The Meanest Thing You Ever Did Was Kiss Me" from One Never Knows, Do One?
Red Nichols and His Five Pennies "Nobody Knows (and Nobody Seems to Care)" from There's No Business Like Show Business: The Magical Songs of Irving Berlin
Clyde Rogers w/ Freddy Martin and His Orchestra "Symphony" from The Best Loved Bands Of All Time
Billy Williams w/ Sammy Kaye and His Swing 'n' Sway Orchestra "The Old Lamp-Lighter" from Remembering The '40s (1946-1947)
Nat King Cole "A Blossom Fell" from Unforgettable
Ella Fitzgerald "Early Autumn" from The Johnny Mercer Songbook
Claude Thornhill "Moonlight Becomes You" from Claude On A Cloud
Julie London "The Party's Over" from Around Midnight