September 21, 2019 Playlist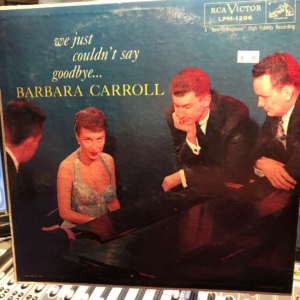 Featuring break music from
"
We Just Couldn't Say Goodbye…"
by Barbara Carroll
 .
Count Basie "One O'Clock Jump" from The Best Loved Bands Of All Time
.
The Three Esquires w/ Tommy Dorsey and His Orchestra
"Looking Around Corners For You" from
The Complete Tommy Dorsey, Vol. III/1936-1937
Eddie Lang "In the Bottle Blues" from The Quintessential Eddie Lang 1925-1932
Glenn Miller & His Orchestra "Glen Island Special" from The Unforgettable Glenn Miller
Fats Waller "My Very Good Friend the Milkman" from Top Hits Of the 1930s
Jack Teagarden "Davenport Blues" from Father of Jazz Trombone
Eddie Condon "Tiger Rag" from Diamond Jubilee Showcase: Great Jazz
Enric Madriguera & His Orchestra "Carioca" from Top Hits Of the 1930s [REQUEST]

Dinah Shore "Love Is Here To Stay" from Dinah, Yes Indeed!
Vic Damone "Non Dimenticar" from Angela Mia
Dinah Washington "I'll Never Kiss You Goodbye" from September In the Rain
Rosemary Clooney & Marian McPartland "September Song" from Piano Jazz
Frank Sinatra "Once Upon A Time" from September Of My Years
Ella Fitzgerald "One For My Baby (And One More For the Road)" from The Intimate Ella
John Coltrane & Johnny Hartman "You Are Too Beautiful" from John Coltrane and Johnny Hartman
Anna Maria Alberghetti "I'll See You In My Dreams" from I Can't Resist You
Nat King Cole "At Last" from Unforgettable
Kitty Kallen w/ Jimmy Dorsey and His Orchestra "They're Either Too Young or Too Old" from The Best of Jimmy Dorsey
Bing Crosby & The Andrews Sisters "Don't Fence Me In" from Cole Porter: The Ultimate Collection
Ginny Simms & Harry Babbitt w/ Kay Kyser & His Orchestra "Two Sleepy People" from Best of the Big Bands: Kay Kyser
Bunny Berigan "Skylark" from Three Of A Kind
Artie Shaw & His Orchestra "Concerto for Clarinet, Pt. 1 & 2" from The Artie Shaw Story: Frenesi
Dinah Washington "September In the Rain" from September In the Rain [REQUEST]

Jack Jones "Time After Time" from My Kind of Town
Nancy Wilson "At Long Last Love" from Gentle Is My Love
Doris Day "Time to Say Goodnight" from I Have Dreamed