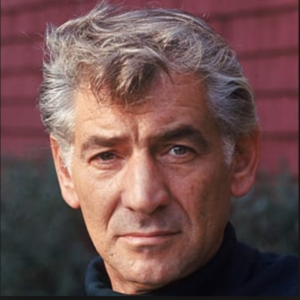 Celebrating Leonard Bernstein's 100th Birthday!
Break Music:
Symphonic Dances from West Side Story: Prologue
Symphonic Suite from On the Waterfront: Andante (with Dignity)
Allegro molto con brio from the Overture to Candide
Galop from Fancy Free
Dance At the Gym from West Side Story
Earl "Fatha" Hines "You're Getting To Be Habit With Me" from Earl "Fatha" Hines
Tony Bennett "Candy Kisses" from I LEFT MY HEART IN SAN FRANCISCO
Claude Thornhill "Moonlight Becomes You" from Claude On A Cloud…
Liberace "I'm Always Chasing Rainbows" from Tenderly [LOCAL]
Johnny Mathis "Maria" from All-Time Greatest Hits
Fred Astaire "Pick Yourself Up" from Pick Yourself Up
Fats Waller "Lulu's Back In Town" from One Never Knows, Do One?
Hildegarde "Isn't This A Lovely Day" from Darling, Je Vous Aime Beaucoup [LOCAL]
Dick Powell "Flirtation Walk" from Paper Moon Soundtrack
Vera Lynn "Be Like That Kettle And Sing" from Sincerely Yours
Ed Ames "There's A Time For Everything" from My Cup Runneth Over
Rosemary Clooney "The Continental" from Come On-a My House
Ramsey Lewis "Mrs. Jones" from Goin' Latin
Martin Denny "Cool (from "West Side Story")" from Another Taste Of Honey!
Al Hirt and Ann-Margret "Mutual Admiration Society" from Beauty and the Beard
Oliver "Jean" from Pop Memories of the '60s
Johnny Hartman & John Coltrane "Lush Life" from The Johnny Hartman Collection (1947-1972)
Frank Sinatra "One For My Baby" from Sinatra Sings For Only the Lonely
Ella Fitzgerald "This Time The Dream's On Me" from The Harold Arlen Songbook
Marni Nixon & Jim Bryant "Tonight" from West Side Story soundtrack
The Ink Spots "If I Didn't Care" from If I Didn't Care [REQUEST]
The Four Aces "Three Coins In the Fountain" from Golden Groups, Golden Memories
Ray Eberle w/ Glenn Miller and His Orchestra "The Story Of A Starry Night" from The Unforgettable Glenn Miller
Andy Russell w/ Al Sack and His Orchestra "Amor" from Sentimental Journey: Pop Vocal Classics
Nat King Cole "Tell Me All About Yourself" from Unforgettable
Jack Teagarden "Prince Of Wails" from Father of Jazz Trombone
Morris Stoloff and His Orchestra "Prisoner Of Love / Dream Awhile With Me, Dear" from Love Sequence: Themes and Counter-Themes
Peter Nero "West Side Story medley" from In Person