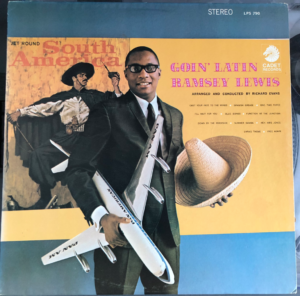 Featuring break music from
Goin' Latin
by Ramsey Lewis

Harvey Fuqua "(Dance) Any Way You Wanta" from Summer Is A Mixtape, Vol. VI
Harry Belafonte "Jump in the Line" from Jump up Calypso
Perry Como "Papa Loves Mambo" from The Very Best of Perry Como
Herb Alpert's Tijuana Brass "Whipped Cream" from Whipped Cream and Other Delights
Ramsey Lewis "Hey, Mrs. Jones" from Goin' Latin
The Sandpipers "Guantanamera" from Pop Memories Of the '60s
Billy Butterfield & His Orchestra "Moten Stomp" from The Uncollected: Billy Butterfield and His Orchestra (1946)
Freddy Martin and His Orchestra "Blue Champagne" from The Stardust Ballroom: Freddy Martin and His Orchestra
Helen Forrest w/ Harry James & His Orchestra "I've Heard That Song Before" from Best Of Big Bands: Harry James
Glen Gray & His Casa Loma Orchestra "No Name Jive" from The Uncollected: Glen Gray and The Casa Loma Orchestra (1939-1940)
Ray Eberle w/ Glenn Miller & His Orchestra "Blue Rain" from The Great Band Era (1944)
Guy Lombardo & His Orchestra "Seems Like Old Times" from Sweet & Heavenly [REQUEST]
Hoagy Carmichael "Washboard Blues" from Hoagy Carmichael Sings Hoagy Carmichael
Hildegarde "A Pretty Girl Is Like A Melody" from Darling, Je Vous Aime Beaucoup
Fats Waller "Georgia On My Mind" from One Never Knows, Do One?
Nick Lucas "Tip-Toe Through The Tulips" from Those Wonderful Thirties: The Star of Hollywood's Golden Era
George Gershwin "I Was So Young (You Were So Beautiful)" from Manhattan: George Gershwin at the Piano
Jack Cooper "Me and My Girl" from Top Hits Of the 1930s
Ella Fitzgerald "Oh, Yes, Take Another Guess (feat. Chick Webb and His Orchestra)" from The Early Years – Part 1 (1935-1938) [feat. Chick Webb and His Orchestra]
Dinah Washington "If I Were a Bell" from Compact Jazz
Nancy Wilson "Wave" from Easy
The George Shearing Quintet And Orchestra "Starlight Souvenirs" from Black Satin
Johnny Hartman "My Ship" from The Johnny Hartman Collection (1947-1972)
Rosemary Clooney "Tenderly" from The Essential Rosemary Clooney
Jack Leonard and Ensemble w/ Tommy Dorsey & His Orchestra "Sweet Adeline" from The Best of Tommy Dorsey
Billy Williams Choir w/ Sammy Kaye and His Orchestra "The Old Lamp-Lighter" from Remembering the '40s (1946-1947)
Dinah Shore "I'm Old Fashioned" from Dinah, Yes Indeed!
Bing Crosby and Rosemary Clooney "Love Won't Let You Get Away" from Fancy Meeting You Here
Les Baxter "Calcutta" from Ultra-Lounge: Space-Capades, Vol. 3
Dean Martin "Sleepy Time Gal" from Dream With Dean