February 15, 2020 Playlist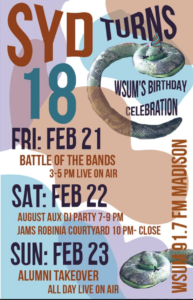 WSUM turns 18 next weekend! The station is having an online silent auction to support Friends of Madison Student Radio!
Bid on the chance to co-host HPZ. An HPZ prize pack will also be available!
Go to 32auctions.com/WSUM2020 to browse items and bid.
Auction opens at 9 am on February 20th and ends at 11:59 pm on February 23rd!
Featuring break music from
On A Magic Carpet
by The Three Suns

Sam Cooke "Cupid" from Portrait Of A Legend (1951-1964)
Les McCann Ltd. & Lou Rawls "Sweet Lover" from Stormy Monday
Paul and Paula "Hey Paula" from Paul & Paula
Nat King Cole "Your Love" from L-O-V-E
The Mills Brothers "Let Me Call You Sweetheart" from The Mellow Years
Patience and Prudence "Gonna Get Along Without Ya Now" [REQUEST]
Peggy Mann w/ Teddy Powell & His Orchestra "Let's Get Lost" from The Great Band Era (1943)
Paul Whiteman and His Concert Orchestra "Washboard Blues" from The Classic Hoagy Carmichael
Sidney Bechet "Saturday Night Blues" from The Best of Sidney Bechet
Eddie Lang "I Got Rhythm" from The Quintessential Eddie Lang 1925-1932
Mary Martin "My Heart Belongs To Daddy" from Cole Porter: The Ultimate Collection [REQUEST]

Mildred Bailey w/ Red Norvo and His Orchestra "I've Got My Love To Keep Me Warm" from Jazz Infusion: Mildred Bailey [REQUEST]
Artie Shaw & His Orchestra "I'm Yours" from 22 Original Big Band Recordings: Artie Shaw
Carmen Cavallaro & His Orchestra "(When the Moonlight Fell) On the Waterfall" from The Uncollected: Carmen Cavallaro and His Orchestra (1946)
Helen Forrest w/ Benny Goodman & His Orchestra "It's Always You" from Benny and Helen: The Original Recordings Of the 1940s
Harry James and His Orchestra "Carnival" from Best of the Big Bands
Louis Armstrong "Mack The Knife"
Ella Fitzgerald "I Hadn't Anyone Till You" from The Intimate Ella
Johnny Mathis "In Wisconsin" from Romantically
Perry Como "Hello, Young Lovers" from The Best of Perry Como
Eydie Gorme "I Wanna Be Loved By You" from Vamps: The Roaring 20's
Bing Crosby with Bob Scobey's Frisco Jazz Band "Some Sunny Day" from Bing With A Beat
Dick Van Dyke "Put On a Happy Face (feat. The Ray Charles Singers & Enoch Light and His Orchestra)" from Songs I Like (feat. The Ray Charles Singers & Enoch Light and His Orchestra)
Ruth Etting "Ten Cents A Dance" from Ruth Etting (1926-1935), Vol. 2 [Remastered] [REQUEST]
Hoagy Carmichael "Georgia On My Mind" from Top Hits Of the 1930s
The Boswell Sisters w/ Victor Young and His Orchestra "I Found A Million Dollar Baby" from Paper Moon soundtrack
Fats Waller "Your Feet's Too Big" from One Never Knows, Do One?
Elvis Presley "Are You Lonesome Tonight?" from Artist Of the Century [REQUEST]
Frank Sinatra "Moonlight Serenade" from Moonlight Sinatra
Doris Day "I'll Buy That Dream" from I Have Dreamed
John Coltrane & Johnny Hartman "You Are Too Beautiful" from John Coltrane and Johnny Hartman