February 22, 2020 Playlist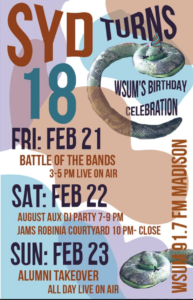 WSUM turned 18 today! The station is having an online silent auction to support Friends of Madison Student Radio!
Bid on the chance to co-host HPZ. An HPZ prize pack is also available!
Go to 32auctions.com/WSUM2020 to browse items and bid.
Auction ends at 11:59 pm on February 23rd!
* * * * * * * * * * * * * * * * * * * * * * * *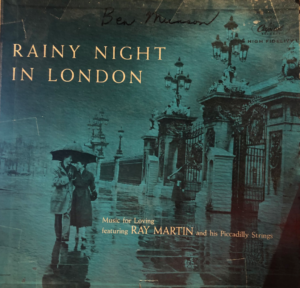 Featuring break music from
Rainy Night In London
featuring Ray Martin and his Piccadilly Strings

The Mary Kaye Trio "How Does the Wine Taste?" from Night Life
Bing Crosby "Down Among the Sheltering Palms" from Bing With A Beat
Nancy Wilson "Time After Time" from Gentle Is My Love
Nat King Cole "Unforgettable" from The Greatest Of Nat King Cole, Vol. 1
Sammy Davis, Jr. "Lovely To Look At" from Sammy Awards
Margaret Whiting "Come Rain Or Come Shine" from A String Of Pearls: Great Stars Of the '40s
Jimmie Lunceford, His Orchestra and Chorus "Blues In the Night (My Mama Done Tol' Me)" from Remembering The '40s (1942)
Harry James and His Orchestra "Trumpet Blues & Cantabile" from Best of the Big Bands
Carlotta Dale w/ Jan Savitt and His Top Hatters "You Go To My Head" from The Great Band Era (1938)
Harriet Hilliard w/ Ozzie Nelson & His Orchestra "Says My Heart" from The Great Band Era (1938)
Evelyn Knight and the Stardusters "A Little Bird Told Me" from Sentimental Journey, Vol. 2 [REQUEST]

Bobby Darin "A Nightingale Sang In Berkeley Square"
Patsy Cline "The Wayward Wind (feat. The Jordanaires)" from The Patsy Cline Story
Eydie Gorme "When the Red, Red Robin Comes Bob Bob Bobbin' Along" from Vamps: The Roaring 20's
Judy Garland "I'm Just Wild About Harry" from The Very Best of Judy Garland
Eddie Lang "Add a Little Wiggle" from The Quintessential Eddie Lang 1925-1932
Jack Teagarden "Davenport Blues" from Father of Jazz Trombone
Doris Day w/ Les Brown & His Band Of Renown "Sentimental Journey" from Sentimental Journey, Vol. 1 [REQUEST]

The Mills Brothers "You Always Hurt The Ones You Love" from These Were Our Songs: These Were Our Guys
Bob Eberly w/ Jimmy Dorsey & His Orchestra "I Hear A Rhapsody" from The Best of Jimmy Dorsey [REQUEST]

Nancy Norman & Billy Williams w/ Sammy Kaye and His Orchestra "I'll Be Walkin' With My Honey" from The Uncollected: Sammy Kaye and His Orchestra (1944-1946)
June Christy & Stan Kenton "Just the Way I Am" from Duet
Tony Bennett "Stranger In Paradise" from Moments To Remember: Tony Bennett/Memory Maker
Louis Armstrong "A Kiss to Build a Dream On" from All Time Greatest Hits
Della Reese "And the Angels Sing" from Della
Vic Damone "You Stepped Out of a Dream" from That Towering Feeling
Glenn Miller & His Orchestra "My Blue Heaven" from The Unforgettable Glenn Miller
Artie Shaw & His Orchestra "Begin the Beguine" from Top Hits Of the 1930s
The Boswell Sisters "Charlie Two Step" from The Classic Hoagy Carmichael
The Exotic Sounds of Martin Denny "Quiet Village" from Music For A Bachelor's Den