February 6, 2021 Playlist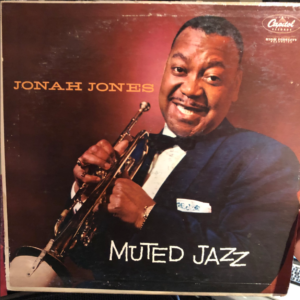 Featuring break music from
"Muted Jazz"
by Jonah Jones

Anita O' Day w/ Gene Krupa & His Orchestra
"Thanks For The Boogie Ride" from
Gene Krupa, His Orchestra & Anita O'Day, Featuring Roy Eldridge
Helen Forrest w/ Benny Goodman & His Orchestra "Busy As A Bee (I'm Buzz Buzz Buzzin)" from Benny and Helen: The Original Recordings Of the 1940s
Ruth Etting "Button Up Your Overcoat" from Ruth Etting (1926-1935), Vol. 2 [Remastered]
Bob Eberly & Helen O'Connell w/ Jimmy Dorsey & His Orchestra "Tangerine" from The Best of Jimmy Dorsey
Wayne King and His Orchestra "Melody Of Love" from Happy Days Are Here Again!
Doris Day "Under a Blanket of Blue" from Day By Night
Nancy Wilson "Time After Time" from Gentle Is My Love
Nat King Cole "The Very Thought Of You" from The Greatest of Nat King Cole
June Christy "Spring Can Really Hang You Up the Most" from The Song Is June!
Christopher Plummer, Julie Andrews & Sound Of Music cast "Edelweiss" from Sound Of Music soundtrack
Dean Martin "If Love Is Good For Me" from That's Amore: The Best of Dean Martin
Jack Jones "My Kind Of Town" from My Kind Of Town
Sammy Davis, Jr. "I Got Plenty O' Nuttin'" from Boy Meets Girl: Sammy Davis Jr. and Carmen McRae on Decca
Kay Starr "Dixieland Band" from Kay Starr Sings!
Martha Ray w/ Dave Rose and His Orchestra "Once In A While" from The Best Of the Hit Parade: The Early Years
Imogene Lynn w/ Artie Shaw & His Orchestra "Ac-Cent-Tchu-Age the Positive" from The Great Band Era (1945)
Clyde Rogers w/ Freddy Martin and His Orchestra "Symphony" from The Great Band Era (1945)
The King Sisters with Frank DeVol's Orchestra "Between The Devil and The Deep Blue Sea" from The Uncollected: The King Sisters with Frank DeVol's Orchestra (1947)
Harry James and His Orchestra "Sleepy Lagoon" from Best of the Big Bands
Glen Gray & His Casa Loma Orchestra "No Name Jive" from The Uncollected: Glen Gray and The Casa Loma Orchestra (1939-1940)
Della Reese "Anything Goes" from Della at Basin Street East (Live)
Peter Nero "It's All Right With Me" from In Person
Shirley Bassey "The Summer Wind" from And We Were Lovers
Johnny Mathis "Live It Up" from Live It Up!
Lena Horne "I Wanna Be Around" from Feelin' Good
The Foursome "Bidin' My Time" from Those Wonderful Thirties: The Stars of Broadway, Night Clubs and Vaudeville
Fats Waller "I'm Growing Fonder Of You" from One Never Knows, Do One?
Frank Sinatra w/ Tommy Dorsey and His Orchestra "Polka Dots and Moonbeams (Around a Pug-Nosed Dream)" from Remembering the '40s (1940)
Ray Eberle and Pat Friday w/ Glenn Miller & His Orchestra "At Last" from The Unforgettable Glenn Miller
Judy Garland "Somewhere Over the Rainbow" from The Very Best of Judy Garland [REQUEST]