January 30, 2021 Playlist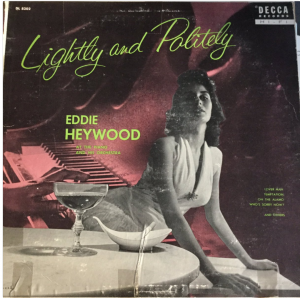 Featuring break music from
"Lightly and Politely"
by Eddie Heywood at the Piano and His Orchestra

Glenn Miller & His Orchestra "Sun Valley Jump" from The Unforgettable Glenn Miller
Dean Martin "Canadian Sunset" from A Winter Romance
Bob London, Frances Irvin, and the Rhythmaires w/ Tommy Dorsey and His Orchestra "Oh! Look At Me Now" from The Best of Tommy Dorsey
Art Kassel & His Kassels-In-the-Air Orchestra, Gloria Hart & Jimmy Featherstone "Take It Easy" from The Uncollected: Art Kassell and His "Kassels In the Air" Orchestra
Helen Forrest w/ Benny Goodman & His Orchestra "Cabin In the Sky" from The Original Recordings Of the 1940s
Shirley Bassey "That's Life" from And We Were Lovers
Jonah Jones "Mack the Knife" from Muted Jazz
Herb Alpert & The Tijuana Brass "More and More Amor" from !!Going Places!!
Al Hirt & Ann-Margret "Personality" from Beauty and the Beard
The New Stan Getz Quartet & Astrud Gilberto "Only Trust Your Heart" from Getz au Go-Go (feat. Astrud Gilberto)
Fats Waller "Alligator Crawl" from One Never Knows, Do One?
Gene Austin "My Blue Heaven" from Those Wonderful Thirties: The Stars of Broadway, Night Clubs and Vaudeville
Jack Teagarden "Stars Fell On Alabama" from Father Of Jazz Trombone
Hildegarde "A Pretty Girl Is Like A Melody" from Darling, Je Vous Aime Beacoup
Charlie Spivak and His Orchestra "Stardreams" from The Great Band Era (12 Great Band Theme Songs)
Ricky Nelson "My One Desire" from Rick Is 21 (Remastered) [REQUEST]

Elvis Presley "The Girl Of My Best Friend" from Artist Of the Century
Patsy Cline "Back In Baby's Arms" from The Essential Patsy Cline
Jack Jones "Travellin' On" from My Kind of Town
The Reflections "(Just Like) Romeo & Juliet" from Spring Chicken, Vol. 4
Sam Cooke "Everybody Likes To Cha Cha Cha" from Portrait of a Legend 1951-1964
Della Reese "Nobody's Sweetheart" from Della at Basin Street East (Live)
Sammy Davis, Jr. "For All We Know" from Mood To Be Wooed
Abbey Lincoln "Mr. Tambourine Man" from Who Used to Dance
Frank Sinatra "I've Got You Under My Skin" from Sinatra Reprise: The Very Good Years [REQUEST]

Julie London "You and the Night and the Music" from Around Midnight
Clyde McCoy & His Orchestra "Sugar Blues" from Happy Days Are Here Again!
Rudy Vallee and His Connecticut Yankees "As Time Goes By" from These Were Our Songs: 1943
Lew Sherwood w/ Eddy Duchin & His Orchestra "Moon Over Miami" from The Great Band Era (1936)
Nat King Cole "Stardust" from The Greatest of Nat King Cole