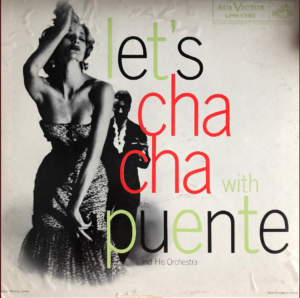 Featuring break music from
Let's Cha Cha with
Puente and His Orchestra

Frank Sinatra "Luck Be A Lady" from Sinatra Reprise: The Very Good Years
Della Reese "I'm Just A Lucky So and So" from Special Delivery
Ray Charles "I Can't Stop Loving You" from Pop Memories of the '60s [REQUEST]

Bobby Darin "The Good Life" from The Best of Bobby Darin
Arthur Lyman "Hawaii" from Latitude 20
Bing Crosby & Rosemary Clooney "Brazil" from Fancy Meeting You Here
Harry Belafonte "These Are the Times" from Jump up Calypso
Ethel Smith "Tico-Tico" from Happy Days Are Here Again!
Glen Gray and The Casa Loma Orchestra "High Society" from The Uncollected Glen Gray And The Casa Loma Orchestra 1939-1940
Martha Tilton w/ Benny Goodman & His Orchestra "Bob White" from The Great Band Era (1937)
Skinnay Ennis and His Orchestra "Ain'tcha Ever Comin' Back" from The Uncollected: Skinnay Ennis and His Orchestra (1947-1948)
Jo Stafford "The Nearness Of You" from The Classic Hoagy Carmichael
Patti Page "Fly Me To The Moon" from Moments To Remember: Patti Page/Soft, Sweet…Sincere
Keely Smith "It's Been a Long, Long Time" from Swingin' Pretty
Tony Bennett "Give Me the Simple Life" from It's Tony Bennett
Eydie Gorme "Tea For Two" from Eydie Gorme's Delight
Dean Martin "Love Me, My Love" from The Capitol Collector's Series
Ella Fitzgerald & Nelson Riddle and His Orchestra "Too Marvelous for Words" from Ella Fitzgerald Sings the Johnny Mercer Song Book
The George Shearing Quintet "On the Street Where You Live" from Shearing On Stage!
Al Donahue and His Orchestra "Jeepers Creepers" from Top Hits Of the 1930s
Fat Waller "Lulu's Back In Town" from One Never Knows, Do One?
George Gershwin "I'll Build A Stairway To Paradise" from Manhattan: George Gershwin
Bob Eberly w/ Jimmy Dorsey and His Orchestra "Change Partners" from The Best of Bob Eberly [REQUEST]

Duke Ellington "Tulip Or Turnip" from Three Of A Kind
Barnet Modernaires w/ Charlie Barnet and His Glen Island Casino Orchestra "Make Believe Ballroom" from The Great Band Era (12 Great Band Theme Songs)
Lionel Hampton and His Orchestra "Make Believe Ballroom" from The Great Band Era (12 Great Band Theme Songs)
Vic Damone "In the Blue Of Evening" from Young and Lively
Dinah Washington "This Heart Of Mine" from September In the Rain
Nancy Wilson "Time After Time" from Gentle Is My Love
Nat King Cole "When I Grow Too Old To Dream" from Unforgettable