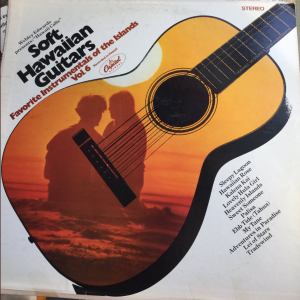 Featuring break music from
Soft Hawaiian Guitars
The Charlie Steinmann Orchestra and Singers "It Is Such a Good Night" from Summer Is A Mixtape, Vol. V
Perez Prado "My Roberta" from Big Hits By Prado
Jack Jones "This Could Be the Start Of Something Big" from Let's Bacardi Party!
Sam Cooke "Having A Party" from Portrait of a Legend 1951-1964
The Beatles "Octopus's Garden" from Abbey Road [REQUEST]
Herman's Hermits "Henry VIII" from Henry VIII [REQUEST]
Ella Fitzgerald "I've Got the World On A String" from The Best of Ella Fitzgerald
Tony Bennett "Give Me the Simple Life" from Here's Tony Bennett
Julie London "Blue Moon" from Heavy Petting Mix
Vic Damone "You Stepped Out Of A Dream" from Vic Damone Sings.
Jack Teagarden "St. James Infirmary" from Father of Jazz Trombone [REQUEST]
Fats Waller "Up Jumped You with Love" from One Never Knows, Do One?
Mildred Bailey "Who Blew Out the Flame" from Jazz Infusion – Mildred Bailey
Dorothy Claire and the Modernaires w/ Glenn Miller and His Orchestra "Perfidia" from The Great Band Era (1941)
Bob Eberly w/ Jimmy Dorsey and His Orchestra "The Things I Love" from These Were Our Songs (1941)
Andy Williams "Embraceable You" from The Andy Williams Sound Of Music
Dinah Washington "Easy Living" from Compact Jazz: Dinah Washington
Johnny Hartman "To Each His Own" from And I Thought About You
Frank Sinatra with Count Basie and His Orchestra "More" from It Might As Well Be Swing
Rosemary Clooney "You Took Advantage Of Me" from The Classic Rosemary Clooney
Cliff Edwards & The Wonderland Jazz Band "K-K-K-Katy/When You Wore a Tulip" from Ukulele Ike Sings Again
Jonah Jones "Night Train" from Jumpin' with Jonah
Keely Smith "Stardust" from Swingin' Pretty
Dean Martin "My One and Only Love" from That's Amore: The Best of Dean Martin
Nat King Cole "Walkin' My Baby Back Home" from The Greatest Hits
Liberace "Liebestraum" from Liberace at the Piano [LOCAL]
Fred Astaire "They Can't Take That Away From Me" from Steppin' Out: Astaire Sings
Lena Horne "Sweet Thing" from Original Jazz, Vol. 2
June Christy "My Ship" from The Best of June Christy: The Jazz Sessions
Johnny Mathis "Misty" from Warm and Tender
Soft Hawaiian Guitars "Trade Winds" from Soft Hawaiian Guitars: Favorite Instrumentals Of the Islands, Vol. 6