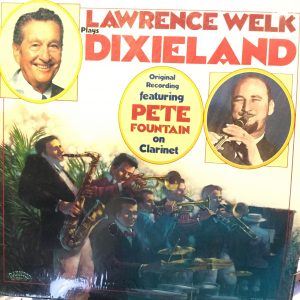 Co-hosted by The Goo!
Featuring break music from
Dixieland
by Lawrence Welk, featuring Pete Fountain

The Andrews Sisters "Pennsylvania Polka" from A String Of Pearls: Great Stars of the '40s
Simon And Garfunkel "59th Street Bridge Song" from Pop Memories Of the '60s
Frankie Avalon "Venus" from Moments To Remember: The Golden Hits of the '50s and '60s
Connie Francis "Hold Me, Thrill Me, Kiss Me" from Shaken, Not Stirred
Elvis Presley "Anything That's Part Of You" from Magical Margical's Elvis Picks
Frank Sinatra "All The Way" from Gold
Jimmy Durante "As Time Goes By" from As Time Goes By: The Best of Jimmy Durante [REQUEST]
Glenn Miller & His Orchestra "Rhapsody In Blue" from The Unforgettable Glenn Miller
Hoagy Carmichael "Stardust" from Hoagy Carmichael – The Essential Collection
Jo Stafford "You Belong To Me" from Alone & Together [REQUEST]
Living Strings "The Soft Touch" from The Living Strings Play Henry Mancini
Barry Manilow "I Don't Want to Walk Without You" from The Essential Barry Manilow
Billy Eckstine "Stormy Weather" from Once More with Feeling
Perez Prado "Mambo Jambo" from Big Hits By Prado
David Rose "The Stripper" from Pop Memories Of the '60s
Herb Alpert and the Tijuana Brass "The Girl From Ipanema" from South Of the Border
Jon Batiste & Stay Human "The Jazz Man Speaks (Maple Leaf Rag)" from Social Music
Andy Williams "If Ever I Would Leave You" from The Andy Williams Sound Of Music
Don Ho "Tiny Bubbles" from Tiny Bubbles [REQUEST]
Paul "Hucklebuck" Williams "Canadian Ace" from Complete 1946-1949
Perry Como "Come Rain Or Come Shine" from Saturday Night With Mr. C
Bobby Darin "I Wanna Be Around" from Best of Bobby Darin
The Boston Pops (John Williams, conductor) "Sing, Sing, Sing!" from It Don't Mean A Thing If It Ain't Got That Swing! [REQUEST]
Bing Crosby "Let's Spend An Evening At Home" from A Bing Crosby Collection, Volume III
Jo Stafford & Gordon MacRae "Monday, Tuesday, Wednesday" from Alone & Together
Dean Martin "Sway" from Capitol Collectors Series
Elvis Presley "She's Not You" from Magical Margical's Elvis Picks
Connie Francis "Where The Boys Are" from Pop Memories Of the '60s
Johnny Mathis "It's Not For Me To Say" from Warm and Tender
Tony Bennett "Stranger In Paradise" from Here's Tony Bennett!
Dick Powell "In My Little Red Book" from The Dick Powell Song Book
Hildegarde "A Pretty Girl Is Like A Melody" from Darling Je Vous Aime Beaucoup [LOCAL]
Roger Williams "Born Free" from Pop Memories of the '60s