A Note from Grandma Cyd
During the June 27, 2020, broadcast of HPZ, I suggested we all pick up the book Me and White Supremacy: A 28-Day Challenge to Combat Racism, Change the World, and Become a Good Ancestor by Layla F. Saad. The reason I'm recommending this book specifically is because it requires learning, self-reflection, and most importantly, personal action. Learn more here.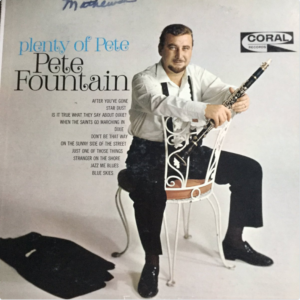 Featuring break music from
Plenty Of Pete by Pete Fountain
Lorenzo Fuller, Eddie Sledge and Fred Davis w/ Orchestra conducted by Pembroke Davenport "Too Darn Hot" from Cole Porter: The Ultimate Collection
Ella Fitzgerald "Heat Wave" from The Irving Berlin Songbook
Perry Como "Papa Loves Mambo" from The Best of Perry Como
Louis Prima "Felicia No Capecia" from Heavy Petting Mix
Nancy Wilson "Wave" from Easy
Lena Horne "One For My Baby (And One More For the Road)" from Torch Songs
Engelbert Humperdinck "Walk Through This World With Me" from Release Me
Dean Martin "It Won't Cool Off" from A Winter Romance
Peggy Lee "Fever" from The Very Thought Of You: A Romantic Crooners Collection
The Murmaids "Popsicles and Icicles" from Pop Memories of the '60s
Herb Alpert's Tijuana Brass "Lollipops and Roses" from Whipped Cream & Other Delights
Sammy Kaye and His Swing 'n' Sway Orchestra "Friends and Neighbors" from Best Of Big Bands: Sammy Kaye
Nat King Cole "Lazy Days Of Summer" from Unforgettable
Judy Garland "Zing! Went the Strings of My Heart" from The Very Best of Judy Garland
Glen Gray and the Casa Loma Orchestra "Sassin' the Boss" from The Uncollected: Glen Gray and The Casa Loma Orchestra (1939-1940)
Helen Forrest w/ Benny Goodman and His Orchestra "Busy As A Bee (I'm Buzz Buzz Buzzin')" from Benny and Helen: The Original Recordings Of the '40s
Hank Jones "Heart and Soul" from The Classic Hoagy Carmichael
Frank Sinatra "Nancy" from Sinatra Reprise: The Very Good Years [REQUEST]
Dinah Washington "Dream" from Late Late Show
Johnny Mathis "Chances Are" from A Personal Collection
Pearl Bailey "World Weary" from Gems by Pearl Bailey
Lena Horne "Stormy Weather" from Uptown Lounge
Doris Day "Someday I'll Find You" from I Have Dreamed
Elsie Carlisle "The Clouds Will Soon Roll By" from Top Hits of the 1930s
Dick Powell "Speaking Of The Weather" from Lullaby Of Broadway
Fats Waller "I'm Growing Fonder Of You" from One Never Knows, Do One?
Jack Teagarden "Ain'tcha Glad?" from Father of Jazz Trombone
Red Nichols & His Orchestra "Say It With Music" from There's No Business Like Show Business: The Magical Songs of Irving Berlin
Louis Armstrong "A Kiss To Build A Dream On" from All-Time Greatest Hits
Frank Sinatra and Nancy Sinatra "Somethin' Stupid" from Greatest Hits, Vol. 1 [REQUEST]
Liberace "My Melancholy Baby" from Tenderly [LOCAL]

Pete Fountain "Blue Skies" from Plenty Of Pete