HPZ Community Convo: 'Me and White Supremacy'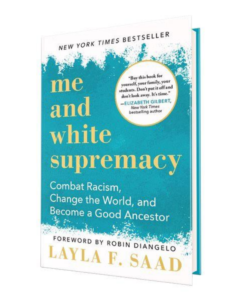 Hi HPZ Listeners,
I wanted to acknowledge what's been going on out there in the world outside the radio studio.
I hope by now all of us have thought about what our role is, or could be, in ending systemic racism, dismantling white supremacy, and fostering healing and reconciliation in our community. 
There are many ways to get involved and be part of the solutions. I have always preferred my own work to be direct and behind-the-scenes. But recently I've been reflecting on how I can do more and realized maybe now it's time I use this radio show, my public platform, as a tool to inspire positive change, too.
This is what I'll be doing to cultivate more personal action in my life. If there's interest, I'm happy to host a virtual HPZ Book Club where we keep each other going through the 28-day exercise (sometimes we need an accountabilibuddy!), or you can simply do the work on your own.
Either way, let's do the work.
WHERE TO GET THE BOOK
Free access through your local library
This book and many others like it might be on back-order right now. Luckily, you can access the e-book and/or audiobook for FREE using your library card through the
Libby
or
Overdrive
apps. Because it's available with unlimited access right now, you should be able to renew again as soon as your loan expires or until you can get your own copy.  I'm currently using the e-book on my iPad. Loans last a week at a time but I've been able to renew and borrow again immediately.
Support a local, independent bookstore
The irony of purchasing anti-racism and other social justice books through places like Amazon might break the internet.  
My favorite local bookstore in Madison is
A Room Of One's Own
. They currently offer online shopping with front-door pickup at the store or shipping to your home.
Maybe you'd like to support a Black-owned bookstore.
Here's a list to consider
. Unfortunately, there are none in Wisconsin, but don't let that stop you. 
Remember a Journal
Reading the book is half the work. Then there's the journaling and self-reflection. Any ol' notebook will do! The rest of the work (the most important part) is taking what we've learned and applying it to our world.
A note from the author
Layla F. Saad was recently interviewed in The New York Times. In describing what the first step is for people trying to dismantle biases and understand their privilege, she states:
To accept that this work isn't going to be a smooth, clean, safe, sanitized experience where you get to examine racism in the world and racism within yourself without feeling emotion. People have reported indigestion, sleeplessness, nervousness — that's your awakening to even just a portion of what black and brown people are walking around with every day.