A Note from Grandma Cyd
During the June 27, 2020, broadcast of HPZ, I suggested we all pick up the book Me and White Supremacy: A 28-Day Challenge to Combat Racism, Change the World, and Become a Good Ancestor by Layla F. Saad. The reason I'm recommending this book specifically is because it requires learning, self-reflection, and most importantly, personal action. Learn more here.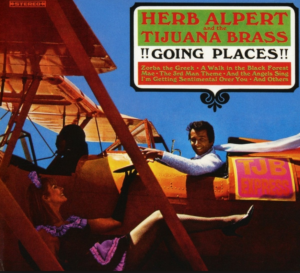 Featuring break music from
!!Going Places!!
by Herb Alpert and the Tijuana Brass
Nat King Cole
"Straighten Up And Fly Right" from
The Unforgettable Nat King Cole
Della Reese "Someday You'll Want Me To Want You" from Della (Remastered)
Sammy Kaye And His Orchestra "A Swingin' Safari" from Come Dance With Me
The Voices of Walter Schumann "Holiday for Strings" from Ultra-Lounge: Space-Capades, Vol. 3
Billie Holiday "Georgia On My Mind" from Lady Day: The Master Takes And Singles [REQUEST]

Billie Holiday "On the Sentimental Side" from Lady Day: The Master Takes And Singles
Maxine Sullivan "Blue Skies" from There's No Business Like Show Business: The Magical Songs of Irving Berlin
Carmen Cavallaro And His Orchestra "It's Delovely" from The Uncollected Carmen Cavallaro And His Orchestra 1946
Bob Eberly w/ Jimmy Dorsey & His Orchestra "Maria Elena" from The Best of Jimmy Dorsey
Fats Waller "Sweet and Low" from One Never Knows, Do One?
Bobby Darin & Johnny Mercer "My Cutey's Due At Two-To-Two Today" from Two of a Kind
Sammy Davis, Jr. "I've Got Plenty O' Nuttin'" from Porgy and Bess
June Christy "Get Happy" from The Best Of June Christy The Jazz Sessions
Ella Fitzgerald "Manhattan" from The Rodgers And Hart Songbook
Herb Alpert & The Tijuana Brass "Tangerine" from Whipped Cream & Other Delights
Dean Martin "My One And Only Love" from That's Amore: The Best Of Dean Martin

Nat King Cole "Stardust" from The Unforgettable Nat King Cole
Rosemary Clooney "You Started Something" from The Essential Rosemary Clooney
The Mills Brothers "Meet Me Tonight In Dreamland" from The Mellow Years
Guy Lombardo And His Royal Canadians "Alice Blue Gown" from The Sweetest Waltzes This Side Of Heaven
Perry Como "I Wanna Go Home (With You)" from Perry Como's Wednesday Night Music Hall
Johnny Mathis "Crazy In The Heart" from Live It Up!
Lew Sherwood w/ Eddy Duchin & His Orchestra "Snuggled On Your Shoulder" from Best Of the Big Bands: Eddy Duchin
Helen Forrest w/ Benny Goodman & His Orchestra "Mister Meadowlark" from Benny and Helen: The Original Recordings Of the 1940s
Glen Gray & The Casa Loma Orchestra "The No-Name Jive" from The Uncollected Glen Gray And The Casa Loma Orchestra 1939-1940
Dick Haymes with the Song Spinners "In My Arms" from These Were Our Songs: These Were Our Guys
Frank Sinatra "Fly Me To The Moon" from Sinatra Reprise: The Very Good Years
Carmen McRae and Dave Brubeck "In Your Own Sweet Way" from Take Five (Live At Basin Street East)
Oliver "Jean" from Pop Memories of the '60s
Doris Day "Moonglow" from Whatever Will Be, Will Be (Que Sera, Sera)
Nat King Cole "That's All" from Hooray For Love: The Great Gentlemen of Song, Vol. 1