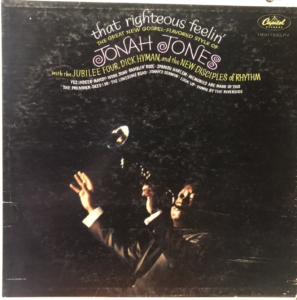 Featuring break music from
That Righteous Feelin'
by Jonah Jones with the Jubilee Four, Dick Hyman, and the New Disciples Of Rhythm
Ramsey Lewis Trio "Function At the Junction" from Goin' Latin
Les Elgart "Recado Bossa Nova" from Diamond Jubilee Showcase
Herb Alpert & The Tijuana Brass "Lollipops and Roses" from Whipped Cream & Other Delights
Peggy Lee "One Note Samba" from I Am A Woman
Bobby Darin "Charade" from The Best Of Bobby Darin
Harry Belafonte "Jamaica Farewell" from Calypso
"Hot Lips" Page w/ Artie Shaw and His Orchestra "St. James Infirmary" from Back Bay Shuffle [REQUEST]

Jimmy Grier and His Orchestra "My Rhythm Mood" from The Uncollected: Jimmy Grier and His Orchestra (1935-1936)
Jack Leonard w/ Tommy Dorsey and His Orchestra "Heaven Can Wait" from The Great Band Era (1939)
Ray Eberle w/ Glenn Miller & His Orchestra "Fools Rush In (Where Angels Fear To Tread)" from The Unforgettable Glenn Miller
Dick Haymes "Put Your Arms Around Me" from These Were Our Songs (1943)
Ella Fitzgerald and Her Savoy Eight "I Was Doing Alright" from Happy Days Are Here Again!
Dick Powell "Flirtation Walk" from Paper Moon soundtrack
Tony Martin w/ Victor Young's Orchestra "When Did You Leave Heaven?" from Those Wonderful Thirties: The Stars Of Hollywood's Golden Era
George Gershwin "So Am I" from Manhattan
Dolly Dawn w/ George Hall & His Orchestra "Have You Got Any Castles, Baby" from The Uncollected: George Hall and His Orchestra
Dinah Shore "Medley: Where Or When / Easy To Love / Get Out of Town / They Can't Take That Away From Me" from Dinah, Yes Indeed!
Nat King Cole "There Goes My Heart" from Unforgettable
Pearl Bailey "You Brought Me More Sunshine" from Pearl Bailey Sings For Adults Only
The Mary Kaye Trio "Night Life" from Night Life
June Christy "A Stranger Called the Blues" from Something Cool
Joni James "Almost Always" from Joni James Award Winning Album
Johnny Mathis "Ace In the Hole" from Live It Up!
The Ink Spots "Someone's Rocking My Dream Boat" from Street Of Dreams
Julie London "'Round Midnight" from Around Midnight
Louis Armstrong "La Vie En Rose" from Satchmo's Golden Favorites
Lou Rawls & Les McCann Ltd. "Willow Weep For Me" from Stormy Monday
Dinah Washington "I Love You, Yes I Do (feat. Teddy Brannon Quartet)" from Late Late Show
Erroll Garner "The Best Things In Life Are Free" from Close Up In Swing
Bing Crosby with Bob Scobey's Frisco Jazz Band "Whispering" from Bing With A Beat
Jonah Jones with the Jubilee Four, Dick Hyman and the New Disciples of Rhythm "'Deed I Do" from That Righteous Feelin'