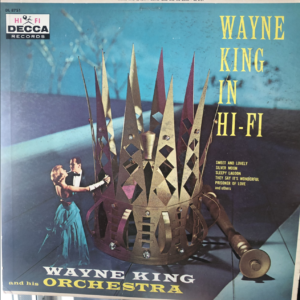 Featuring break music from
Wayne King In Hi-Fi
by Wayne King and His Orchestra

Frank Sinatra w/ Count Basie and The Orchestra "Come Fly With Me" from Sinatra At the Sands
Louis Armstrong "Jeepers Creepers" from Satchmo's Golden Favorites
Herb Alpert & The Tijuana Brass "Green Peppers" from Whipped Cream & Other Delights
Rosemary Clooney & Bing Crosby "Brazil" from Fancy Meeting You Here (Remastered)
Ethel Smith "Tico-Tico" from Happy Days Are Here Again
Jack Teagarden "Meet Me Tonight In Dreamland" from Father Of Jazz Trombone
Fats Waller "Until the Real Thing Comes Along" from Top Hits Of the 1930s
Art Kassel and His "Kassels-In-The-Air Orchestra" "Louise" from The Uncollected: Art Kassel and His "Kassels In the Air" Orchestra (1944)
Harry Babbit and Trudy Erwin w/ Kay Kyser's Orchestra "Who Wouldn't Love You" from Kay Kyser's Greatest Hits
Joe Reichman and His Orchestra "Chopsticks" from The Uncollected Joe Reichman And His Orchestra 1944-1949
Mary Martin "My Heart Belongs To Daddy" from Cole Porter: The Ultimate Collection [REQUEST]

Fred Astaire "I'm Putting All My Eggs In One Basket" from Pick Yourself Up!
Dick Powell "Lulu's Back In Town" from Lullaby Of Broadway
Hildegarde "This Year's Kisses" from Darling, Je Vous Aime Beaucoup [LOCAL]

Hoagy Carmichael "Memphis In June" from Hoagy Carmichael In Person (V-Discs and Radio Performances)
Jimmie Grier & His Orchestra "The Object Of My Affection" from Paper Moon soundtrack
Peter Mulvey with Sista Strings "Ingrid Bergman" from Live at The Cafe Carpe [LOCAL]

Jon Batiste "The Very Thought of You" from Hollywood Africans
Nina Simone "I Wish I Knew How It Would Feel to Be Free" from Freedom: Songs from the Heart of America
Sam Cooke "That's Where It's At" from 30 Greatest Hits: Portrait of a Legend 1951-1964
Errol Garner "Shadows" from Close Up In Swing
Sammy Davis Jr. "What Is There To Say" from Mood To Be Wooed
Nancy Sinatra "You Only Live Twice" from Nancy's Greatest Hits
Ramsey Lewis "Cast Your Fate To the Wind" from South America Take It Away!
Peggy Lee "You're Nobody 'Til Somebody Loves You" from I'm a Woman (Remastered)
Lena Horne "And I Love Him" from Feelin' Good
Doris Day "Stars Fell On Alabama" from Day By Night
Carmen McRae "Something I Dreamed Last Night" from Book of Ballads
Nat King Cole "Back In My Arms" from Unforgettable
Dinah Shore "Love Is Here To Stay" from Dinah, Yes Indeed!
Glenn Miller & His Orchestra "Londonderry Air" from The Unforgettable Glenn Miller