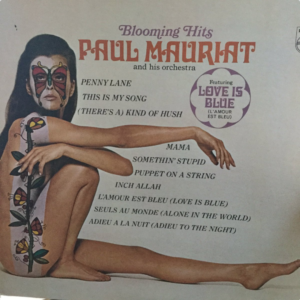 **Co-hosted by Perry Combover!**
Featuring break music from
Blooming Hits
  by Paul Mauriat and His Orchestra

Harry James and His Orchestra "Time After Time" from Dance Party!
Duke Ellington and His Orchestra "Summer Samba" from Happiness Is: Live For Life
The Three Suns "Lisbon Antigua" from On a Magic Carpet
Horst Jankowski and His Orchestra "A Walk In the Black Forest" from Pop Memories of the '60s
Archie Bleyer "Hernando's Hideaway" from Moments To Remember: The Golden Hits of the '50s and '60s
Judy Garland "The Trolley Song" from The Very Best of Judy Garland
Ella Fitzgerald "I Was Doing All Right" from Happy Days Are Here Again!
Lucy Ann Polk "Memphis In June" from The Classic Hoagy Carmichael
Frank Sinatra "Body and Soul" from Body and Soul
Nancy Wilson "Make Me Rainbows" from Easy
Perry Como "Catch A Falling Star" from The Best of Perry Como
Paul Mauriat and His Orchestra "L'Amour Est Bleu (Love Is Blue)" from Blooming Hits
Bing Crosby "Dance With A Dolly" from Bing Crosby Treasury: The Songs I Love
June Christy "Get Happy" from The Best of June Christy: The Jazz Sessions
Rosemary Clooney "Botch-A-Me" from The Essential Rosemary Clooney
Eydie Gorme "You Need Hands" from You Need Hands
Bobby Darin "A Nightingale Sang In Berkeley Square" from A Nightingale Sang In Berkeley Square
Nat King Cole "Stardust" from Unforgettable
Sammy Davis, Jr. "Love Me" from Mood To Be Wooed
Al Martino "I Love You Truly" from I Love You Truly
Herb Alpert & The Tijuana Brass "Ladyfingers" from Whipped Cream and Other Delights
Dinah Shore "Love Is Here To Stay" from Dinah, Yes Indeed!
Doris Day with Les Brown and His Orchestra "Till The End Of Time" from Till The End Of Time [REQUEST]
Fred Astaire "They Can't Take That Away From Me" from Steppin' Out: Astaire Sings [REQUEST]
Ray Eberle w/ Glenn Miller & His Orchestra "A Handful of Stars" from The Unforgettable Glenn Miller
Hildegarde "Lili Marlene" from Darling, Je Vous Aime Beaucoup
Dick Powell "I'll String Along With You" from Lullaby Of Broadway
Jack Teagarden "Stars Fell On Alabama" from Father of Jazz Trombone
George "Bon Bon" Tunnell w/ Jan Savitt and the Top Hatters "Make Believe Island" from These Were Our Songs (1940)
Jan Garber & His Greater Columbia Recording Orchestra "Puttin' On the Ritz" from Irving Berlin: A Hundred Years
Johnny Mathis "Baby, Baby, Baby" from Warm
Vicky Lane "Love Isn't Born (It's Made)" from I Swing For You