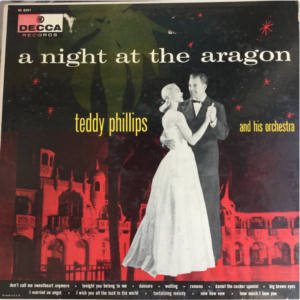 Featuring break music from
A Night At the Aragon
  by Teddy Phillips and His Orchestra

Ramsey Lewis "Hey, Mrs. Jones" from Goin' Latin
The Young Rascals "Groovin'" from Apollo 13 soundtrack
The George Shearing Quintet "Without You" from Latin Escapade
Billy Vaughn & His Orchestra "A Swingin' Safari" from Pop Memories Of the '60s
Joe "Fingers" Carr / 80 Drums Around the World "Istanbul (Not Constantinople)" from Ultra-Lounge Vol 3: Space Capades
Vicky Lane "You Hit the Spot" from I Swing For You
Johnny Mathis "The Lovely Things You Do" from Warm
Shirley Bassey "Summer Wind" from And We Were Lovers
Dinah Shore "Medley: Where Or When / Easy To Love / Get Out of Town / They Can't Take That Away From Me" from Dinah, Yes Indeed!
The Modernaires w/ Glenn Miller & His Orchestra "Make Believe Ballroom" from The Unforgettable Glenn Miller
Jimmy Dorsey & His Orchestra "Dusk In Upper Sandusky" from The Best of Jimmy Dorsey
Perry Como w/ Ted Weems & His Orchestra "That Old Gang Of Mine" from Happy Days Are Here Again!
Fats Waller "If I Were You" from One Never Knows, Do One?
George Formby "When I'm Cleaning Windows" from Top Hits of the 1930s [REQUEST]
The Happiness Boys "She Knows Her Onions" from 1926
Frank Sinatra "Blue Moon" from Summer Is A Mixtape, Vol. VI
Nat King Cole "You Leave Me Breathless" from Unforgettable
Ella Fitzgerald "Midnight Sun" from The Johnny Mercer Songbook
Bobby Short "Manhattan" from Uptown Lounge
Bing Crosby "Isn't This A Lovely Day" from Bing Crosby Treasury: The Songs I Love
Elvis Presley "The Wonder Of You" from Elvis: 30 #1 Hits [REQUEST]
Judy Garland "Meet Me In St. Louis, Louis" from The Very Best of Judy Garland
The Skylarks w/ Russ Morgan and His Orchestra "Cruising Down the River" from Music In the Morgan Manner
Pinky Tomlin "The Object Of My Affection" from Those Wonderful Thirties: The Stars Of Hollywood's Golden Era
Hildegarde "A Pretty Girl Is Like A Melody" from Darling, Je Vous Aime Beaucoup Local
Jo Stafford & Gordon MacRae "Say Something Sweet To Your Sweetheart" from Alone and Together
Dean Martin "Louise" from Spring Chicken, Vol. 4
Kay Starr "Who's Foolin' Who" from Kay Starr Sings, Vol. 2
Sammy Davis, Jr. "I've Got A Crush On You" from Mood To Be Wooed
Ella Fitzgerald & Louis Armstrong "Summertime" from Porgy and Bess [REQUEST]
Louis Armstrong and Danny Kaye "Good Night, Sleep Tight Medley" from The Five Pennies