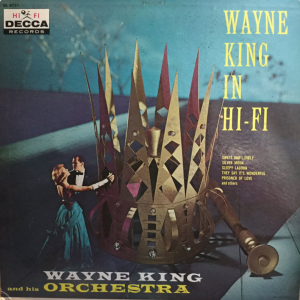 Featuring break music from
Wayne King In Hi-Fi
by Wayne King and His Orchestra

Benny Goodman & His Orchestra "Don't Be That Way" from The Famous 1938 Carnegie Hall Jazz Concert
The King Sisters w/ the Rhythm Reys "The Hut Sut Song" from These Were Our Songs (1941)
The Merry Macs "Jingle Jangle Jingle" from Remembering The 40s (1942)
Artie Shaw "Frenesi" from The Great Band Era (1940)
Billy Williams w/ Sammy Kaye & His Swing 'n' Sway Orchestra "It Might As Well Be Spring" from The Best Loved Bands Of All Time
Vic Damone "Deep Purple" from Vic Damone Sings.
Jonah Jones "Too Close For Comfort" from Muted Jazz
Al Hirt and Ann-Margret "Mutual Admiration Society" from Beauty and the Beard
Dick Van Dyke "Baby Won't You Please Come Home" from Songs I Like
Keely Smith "The Nearness Of You" from Swingin' Pretty
Dean Martin "Heaven Can Wait" from Heavy Petting Mix
Ruth Etting "Body and Soul" from Ruth Etting (1926-1935), Vol. 2 [Remastered]
Ginny Simms & Harry Babbitt w/ Kay Kyser & His Orchestra "The Umbrella Man" from Top Hits Of the 1930s
Dick Powell "Thanks A Million" from The Dick Powell Song Book
Jack Smith (The Whispering Baritone) "Me and My Shadow" from Hear Them Again! [REQUEST]
Rudy Vallee "If I Had A Girl Like You" from The Best Loved Bands of All Time
Ella Fitzgerald And Louis Armstrong "Summertime" from Summertime [REQUEST]
Johnny Hartman "Stairway To the Stars" from The Johnny Hartman Collection (1947-1972)
Johnny Mathis "Gina" from Warm and Tender
Johnny Mathis "I've Grown Accustomed To Her Face" from Warm and Tender
Louis Armstrong "You're the Top" from Cole Porter Centennial Collection [REQUEST]
Dinah Washington & Brook Benton "A Rockin' Good Way (To Mess Around and Fall in Love)" from Heavy Petting Mix [REQUEST]
Frank Sinatra "Nice 'n' Easy" from Nice 'n' Easy
Rosemary Clooney and Marian McPartland "Our Love Is Here To Stay" from Piano Jazz
Andy Williams "The Very Thought Of You" from The Andy Williams Sound Of Music
Herb Alpert & The Tijuana Brass "Ladyfingers" from Whipped Cream and Other Delights
Paula Kelly and the Modernaires w/ Glenn Miller and His Orchestra "Sweeter Than the Sweetest" from The Unforgettable Glenn Miller
Bing Crosby "I Would If I Could But I Can't" from The Bing Crosby Collection, Vol. III
Fats Waller "Up Jumped You With Love" from One Never Knows, Do One?
The Mills Brothers "Meet Me Tonight In Dreamland" from The Mellow Years
Harry Belafonte "Come Back Liza" from Calypso