Featured Artist: June Christy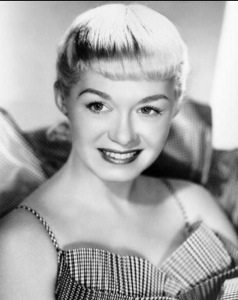 [1] Fancy Meeting You Here by Rosemary Clooney & Bing Crosby from Fancy Meeting You Here
[2] Bidin' My Time by Ella Fitzgerald from The George & Ira Gershwin Songbook
[3] Nothing But the Best by Frank Sinatra from Nothing But the Best
[4] On A Clear Day by Johnny Hartman from The Johnny Hartman Collection
[5] Fly Me To the Moon by Bobby Darin from The Best of Bobby Darin
[6] That Lucky Old Sun by Louis Armstrong from All-Time Greatest Hits
[7] Tampico by June Christy w/ Stan Kenton & His Orchestra from Your Hit Parade (1945)
[8] Let Me Off Uptown by Anita O'Day w/ Gene Krupa & His Orchestra from Satin Dolls: The Women Of Jazz
[9] Amor by Andy Russell w/ Al Sack & His Orchestra from Sentimental Journey: Pop Vocal Classics
[10] I Don't Know Why by Stuart Foster w/ Tommy Dorsey & His Orchestra from A String Of Pearls: Great Stars of the 1940s
[11] Getting To Know You by Guy Lombardo & His Orchestra from Sweet & Heavenly  [request]
[12] Willow Weep For Me by June Christy w/ Stan Kenton & His Orchestra from —-
[13] It's the Talk Of the Town by Art Lund w/ Benny Goodman & His Orchestra from —-
[14] This Will Make You Laugh by Nat King Cole from The Velvet Voice
[15] Honeysuckle Rose by Fats Waller from A Handful of Keys (1922-1935)
[16] Jivin' the Vibes by Lionel Hampton from Founder of the Jazz Vibes: 1930-1944
[17] Willow Weep For Me by June Christy from June Christy Recalls Those Kenton Years
[18] Weeping Willow Rag by Scott Joplin from Scott Joplin – 1916 [request]
[19] Is That All There Is? by Peggy Lee from Is That All There Is?
[20] I've Got You Under My Skin by Frank Sinatra from Reprise: The Very Good Years [request]
[21] Ain't That A Kick In the Head by Dean Martin from Capitol Collectors Series
[22] By Myself by Johnny Mathis from A Personal Collection
[23]  Spring Is Here by Vic Damone from That Towering Feeling!
[24] Spring Can Really Hang You Up the M by June Christy from The Song Is June
[25] It Might As Well Be Spring by Billy Williams w/ Sammy Kaye & His from The Best Loved Bands Of All Time
[26] When It's Springtime In the Rockies by Ben Selvin and His Orchestra from Top Hits of the 1930s
[27] Love Turns Winter Into Spring by June Christy from Santa Claus Is Back In Town
[28] A Little Kiss Each Morning by Rudy Vallee from Heigh-Ho Everybody, This Is Rudy Vallee
[29] There Isn't Any Limit To My Love by Anne Lenner w/ Carroll Gibbins & His Orchestra from Top Hits of the 1930s
[30] A Room With A View by Hildegarde w/ Ray Sinatra & Orchestra from Darlng, Je Vous Aime Beaucoup
[31] Chew Chew Chew Chew Your Bubble Gum by Ella Fitzgerald from The Early Years
[32] Heart and Soul by June Christy from The Hoagy Carmichael Songbook