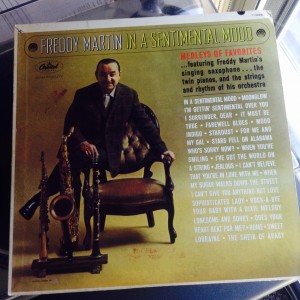 Featuring break music from
In A Sentimental Mood
by Freddy Martin
Peggy Lee "A Doodlin' Song" from Extra Special!
Bobby Darin and Johnny Mercer "Who Takes Care Of the Caretaker's Daughter" from Two of a Kind
Dick Van Dyke "Ain't We Got Fun" from Songs I Like
Elvis Presley "Wooden Heart" from Elvis Sings For Children and Grownups Too!
Eydie Gorme "When the Red, Red Robin Comes Bob Bob Bobbin' Along" from Eydie Gormé Vamps the Roaring 20's
Nat King Cole "Route 66" from The Unforgettable Nat King Cole
Bing Crosby w/ Paul Whiteman and His Orchestra "Orange Blossom Time" from A Bing Crosby Collection, Volume III
Eddie Lang "After You've Gone" from The Quintessential Eddie Lang
Dick Powell "Fancy Meeting You" from The Dick Powell Song Book
Denny Dennis w/ Roy Fox & His Orchestra "Your Heart and Mine" from Top Hits Of the 1930s
Ruth Etting "Sam, the Old Accordion Man" from Ruth Etting (1926-1935), Vol. 2
Artie Shaw and His Orchestra "You're Mine, You" from 22 Original Big Band Recordings: Artie Shaw
Kitty Kallen w/ Harry James & His Orchestra "It's Been A Long, Long Time" from Best Of the Big Bands: Harry James
Dick Haymes "Day Dreaming" from Serenading With the Big Bands
Margaret Whiting "A Tree In the Meadow" from Remembering The '40s (1948)
Hoagy Carmichael "One Morning In May" from The Essential Collection
Doris Day "Que Será Será" from Whatever Will Be Will Be…
Betty Hutton "His Rocking Horse Ran Away" from These Were Our Songs (1944)
Gene Austin "My Blue Heaven" from Happy Days Are Here Again
The Foursome "Bidin' My Time" from Those Wonderful Thirties: The Stars of Broadway, Night Clubs and Vaudeville
George Gershwin "Just Snap Your Fingers At Care" from Gershwin Plays Gershwin: The Piano Rolls, Vol. 2
Jack Teagarden "Never Had A Reason To Believe In You" from Father of Jazz Trombone
Ella Fitzgerald & Count Basie "I'm Beginning To See the Light" from Ella and Basie!
Dean Martin "Try Again" from Hey, Brother, Pour the Wine
Dinah Washington "Unforgettable" from Uptown Lounge
Billy Eckstine "With Every Breath I Take" from Once More With Feeling – EP
Rosemary Clooney "I Get Along Without You Very Well" from The Classic Rosemary Clooney
Frank Sinatra "Oh, You Crazy Moon" from Moonlight Sinatra
Sammy Davis, Jr. "Mr. Bojangles" from Mr. Bojangles
Johnny Hartman "The End Of A Love Affair" from All of Me
Connie Francis "My Buddy" from Greatest American Waltzes Sung By Connie Francis
Tony Bennett "Strangers In Paradise" from Here's Tony Bennett
Jimmy Durante "I'll See You In My Dreams" from As Time Goes By: The Best of Jimmy Durante