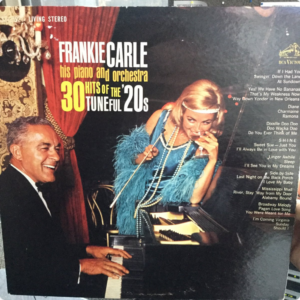 Featuring break music from
30 Hits Of the Tuneful '20s
by Frankie Carle, His Piano and Orchestra
and Guest Co-Host
Warren Gordon!
.
Carly Simon "Spring Is Here" from Torch
Billy Williams w/ Sammy Kaye and His Orchestra "It Might As Well Be Spring" from The Best Loved Bands Of All Time
The Song Spinners "Comin' In On A Wing And A Prayer" from Stage Door Canteen
Dick Haymes "You'll Never Know" from Stage Door Canteen
Bing Crosby "Sunday, Monday, or Always" from You Hit Parade
Frank Sinatra and the Pied Pipers w/ Tommy Dorsey and His Orchestra "There Are Such Things" from Stage Door Canteen
Dinah Shore "I'll Walk Alone" from Stage Door Canteen
Bing Crosby w/ Les Paul "It's Been A Long Long Time" from 20th Century Masters – The Millennium Collection: The Best of Les Paul
Les Paul "On the Sunny Side Of the Street" from The Legend and the Legacy
Louis Armstrong & Bing Crosby "Gone Fishin'" from The Best of the Decca Years, Vol. 1 – The Singer
Bing Crosby "Easy To Remember" from The Best Of Bing
Ethel Waters "Harlem On My Mind (feat. Bunny Berigan)" from Irving Berlin: A Hundred Years
Paul McCartney "Always" from Kisses On the Bottom
Fred Astaire "Top Hat, White Tie, and Tails" from Starring Fred Astaire: The Columbia Years
Artie Shaw and His Orchestra "Moonglow" from This Is Artie Shaw
Elvis Presley "Have I Told You Lately That I Love You?" from Loving You
Ella Fitzgerald "Manhattan" from Ella Fitzgerald Sings the Rodgers & Hart Songbook
Bobby Short "Way Out West On West End Avenue" from Songs of New York
Freddy Taylor w/ Django Reinhardt "Georgia On My Mind" from Django Reinhardt and His American Friends
Benny Goodman "Blue Room" from Complete Benny Goodman, Vol. V
Dr. John and Rickie Lee Jones "Makin' Whoopee" from In A Sentimental Mood
Frank Sinatra "The Lady Is a Tramp" from Classic Sinatra: His Great Performances 1953-1960
Frank Sinatra "Where Or When" from Sinatra At the Sands
Frank Sinatra "You're Getting to Be a Habit With Me" from Songs for Swingin' Lovers!
Frank Sinatra "I Wish I Were In Love Again" from A Swingin' Affair!
Janis Joplin "Little Girl Blue" from I Got Dem Ol' Kozmic Blues Again Mama!
Art Tatum and Buddy DeFranco "This Can't Be Love" from The Tatum Group Masterpieces
Dooley Wilson "As Time Goes By" from Remembering the '40s
Sue Richards and the Toppers "Rock and Roll Waltz" (((45 RPM)))