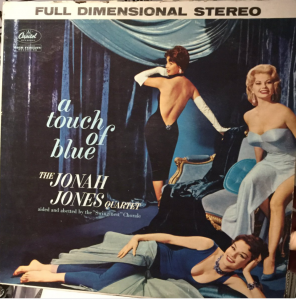 Featuring break music from
A Touch Of Blue
by The Jonah Jones Quartet
Claude Thornhill and His Orchestra "Snowfall" from The Great Band Era (12 Great Band Theme Songs)
Harry James and His Orchestra "Sleepy Lagoon" from Best of the Big Bands
Sammy Kaye and His Orchestra "Harbor Lights" from Best Of Big Bands: Sammy Kaye
Skinnay Ennis and His Orchestra "Rain" from The Uncollected: Skinnay Ennis and His Orchestra (1946-1948)
George Gershwin "Kicking The Clouds Away" from Manhattan
Eddie Cantor "Mandy" from Irving Berlin: A Hundred Years
Ella Fitzgerald "Begin The Beguine" from Sings The Cole Porter Songbook [REQUEST]

Wayne Newton "Danke Shoen" from The Very Thought Of You: A Romantic Crooners Collection
Doris Day "Love Me Or Leave Me" from Doris Day's Greatest Hits
Frank Sinatra "Willow Weep For Me" from Frank Sinatra Sings For Only The Lonely
The Earl Hines Trio "Makin' Whoopee" from Earl "Fatha" Hines
Herb Alpert & The Tijuana Brass "Lollipops and Roses" from Whipped Cream & Other Delights
George Shearing Quintet "Medley: As Long As I Live/Let's Live Again" from Music For A Bachelor's Den
Jonah Jones "On the Street Where You Live" from Let's Bacardi Party
Judy Garland & Margaret O'Brien "Under the Bamboo Tree" from Meet Me In St. Louis (Original Motion Picture Soundtrack)
Nat "King" Cole "Stardust" from Sleepless In Seattle (Original Motion Picture Soundtrack) [REQUEST]

Dinah Shore "Love Is Here To Stay" from Dinah, Yes Indeed!
Marian McPartland & Rosemary Clooney "Don't Fence Me In" from Marian McPartland's Piano Jazz Radio Broadcast (With Rosemary Clooney)
Louis Armstrong "What A Wonderful World" from Louis Armstrong's All Time Greatest Hits
Ed Ames "My Cup Runneth Over" from Pop Memories Of the '60s
Johnny and Santo "Sleepwalk" from Heavy Petting Mix
"Hot Lips" Page w/ Artie Shaw and His Orchestra "St. James Infirmary" from Back Bay Shuffle
Mel Torme "The Rumba Jumps" from The Classic Hoagy Carmichael
Bobby Darin & Johnny Mercer "If I Had My Druthers" from Two Of A Kind
Fats Waller "Sweet Thing" from "One Never Knows, Do One?" – The Best Of Fats Waller
Eydie Gorme and Steve Lawrence "(Close Your Eyes) Take A Deep Breath" from Eydie Gorme's Delight
Johnny Hartman "To Each His Own" from And I Thought About You
Dean Martin "Return To Me (Ritorna Me)" from That's Amore: The Best Of Dean Martin
Lawrence Welk "Bubbles In the Wine" from Happy Days Are Here Again!
Binnie Hale "As Time Goes By" from Top Hits Of the 1930s
Dinah Washington "I'll Never Kiss You Goodbye" from September In the Rain