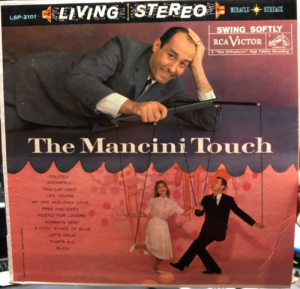 Featuring break music from
The Mancini Touch
by Henry Mancini & His Orchestra

The Nat King Cole Trio "Honeysuckle Rose" from Happy Days Are Here Again!
Frank Sinatra "You're Getting To Be A Habit With Me" from Songs For Swingin' Lovers
Andre Kostelanetz "Till There Was You" from The Magic of Stereo: Soft Lights and Sweet Music
Doris Day "If I Give My Heart to You" from Doris Day's Greatest Hits
Fred Astaire "The Way You Look Tonight" from Steppin'Out: Astaire Sings
Merv Griffin "These Foolish Things (Remind Me Of You)" from A Tinkling Piano In the Next Apartment
The Andrews Sisters "Shoo-Shoo Baby" from Remembering the '40s (1942-1943)
Benny Goodman and His Orchestra "Ballad In Blue" from The Classic Hoagy Carmichael
George Hall and His Orchestra "Blue Skies" from The Uncollected: George Hall and His Orchestra
Tony Pastor and His Orchestra "Dance With a Dolly" from The Great Band Era (1944)
Mike Douglas & the Campus Kids w/ Kay Kyser & His Orchestra "Ole Buttermilk Sky" from Best of Big Bands: Kay Kyser
Dean Martin "Sway" from That's Amore: The Best of Dean Martin
Rosemary Clooney "In the Cool, Cool, Cool of the Evening" from The Essential Rosemary Clooney
Bobby Darin "The Good Life" from The Very Thought Of You: A Romantic Crooners Collection
Patsy Cline "I Fall To Pieces (feat. The Jordanaires)" from Showcase (feat. The Jordanaires)
Engelbert Humperdinck "Release Me (And Let Me Love Again)" from Pop Memories of the '60s
Andy Williams "I'm All Smiles" from Dear Heart
Louis Armstrong "Someday You'll Be Sorry" from Satchmo's Golden Favorites
The Modern Jazz Quartet "Autumn In New York" from Django
Johnny Hartman "I Cover the Waterfront" from The Johnny Hartman Collection 1947-1972
Ella Fitzgerald "Have You Met Sir Jones?" from The Rodgers and Hart Songbook
Tony Bennett "Stranger In Paradise" from It's Tony Bennett
Fats Waller "You've Been Taking Lessons In Love (05-08-35)" from A Handful of Keys
Slim and Slam "The Flat Foot Floogie" from The Legendary Male Vocalists Of Jazz (1925-1940)
Sam Browne w/ Jack Hylton and His Orchestra "If I Had A Talking Picture Of You" from Top Hits of the 1930s
Rudy Vallee & His Connecticut Yankees "A Little Kiss Each Morning" from Heigh-Ho Everybody, This is Rudy Vallee
Judy Garland and Gene Kelly "When You Wore A Tulip" from A String Of Pearls: Great Stars of the '40s
Henry Mancini and His Orchestra "Politely" from The Mancini Touch
The Mills Brothers "Autumn Leaves" from The Mellow Years
Johnny Mathis "Moonlight Becomes You" from Warm and Tender
Dinah Shore "Medley: Where Or When / Easy To Love / Get Out of Town / They Can't Take That Away From Me" from Dinah, Yes Indeed!
June Christy "Rock Me to Sleep" from The Jazz Sessions: The Best of June Christy