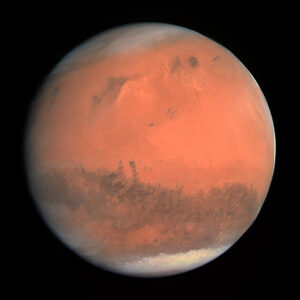 Hosted by DJ du Mars

Listen to Red Planet with DJ du Mars
Sundays 12-2 p.m. on WSUM!
Guy Lombardo & His Royal Canadians "Get out Those Old Records" from The Very Best of Guy Lombardo & His Royal Canadians
Artie Shaw & Helen Forrest "They Say" from The Essence of Artie Shaw
Bonnie Guitar "Dark Moon" from Dark Moon
Louis Armstrong "On the Sunny Side of the Street" from The Ultimate Collection: Louis Armstrong
Sammy Kaye "Harbor Lights" from The Sammy Kaye Collection: 1937 – 53
The Ink Spots "It's All over but the Crying" from Single
Dean Martin "Ain't That a Kick In the Head" from Dino: The Essential Dean Martin
Billie Holiday "Crazy He Calls Me" from Billie Holiday's Greatest Hits
Kay Kyser and His Orchestra "(I Got Spurs That) Jingle, Jangle, Jingle" from Best of the Big Bands
Roy Brown "Mighty, Mighty Man" from Good Rockin Tonight
The Dorsey Brothers Orchestra "I Believe in Miracles" from 1935 / 1937
Frank Sinatra "In the Wee Small Hours of the Morning" from The Best of the Capitol Years
Eydie Gorme "Let's Do It (Let's Fall in Love)" from The Great American Songbook
Ella Fitzgerald & Louis Armstrong "Dream a Little Dream of Me" from 20th Century Masters: The Millennium Collection: Best Of Ella Fitzgerald
Gus Arnheim & His Orchestra "A Peach of a Pair (feat. Russ Columbo)" from Big Band 1920's Essentials
Lys Gauty "Hot voodoo" from Lys Gauty : Succès et raretés (1932-1933)
Doris Day "Ready, Willing and Able" from Music, Movies & Memories
Cab Calloway and His Orchestra "I've Got the World On a String" from The Best of Cab Calloway and His Orchestra
The Boswell Sisters "Concentratin' On You" from The Boswell Sisters Swing!
Doris Day, Buddy Clark and Orchestra & George Siravo "Love Somebody" from 16 Most Requested Songs
Django Reinhart & Stephane Grapelli "Tiger Rag"
Woody Guthrie "Going Down the Road Feeling Bad" from The Asch Recordings, Vols. 1-4
Nat King Cole "(Get Your Kicks On) Route 66" from Ultimate Nat King Cole
Charles Trenet "Que reste-t-il de nos amours" from Les N°1 de Charles Trenet
Ruth Etting "Smoke Gets In Your Eyes" from Easy Come, Easy Go (Original Recordings 1931 -1937)
Bix Biederbecke "Singin' the Blues" from Singin' the Blues
The Light Crust Doughboys "Jean from Abilene" from Early Years Plus
Fats Domino "Be My Guest" from The Fats Domino Jukebox: 20 Greatest Hits
Unknown "You Never Miss the Water (Till the Well Runs Dry)" from Spadella! The Essential Spade Cooley
Kay Kyser & His Orchestra "A Zoot Suit (For My Sunday Gal)" from Strict Education in Music
Lionel Hampton And His All-Stars "Is You Is, or Is You Ain't" from 1944-45 Broadcasts
Harry James "It's Been a Long, Long Time" from The Complete Harry James In Hi-Fi
Tommy Dorsey and His Orchestra "'Deed I Do (feat. Edythe Wright)" from You Leave Me Breathless (The Bluebird Recordings In Chronological Order, Vol. 14 – 1938)
The Count Basie Orchestra "Bugle Call Rag (feat. Lester Young)" from The Savory Collection, Vol. 2 – Jumpin' at the Woodside: The Count Basie Orchestra (feat. Lester Young)
Louis Jordan "Let the Good Times Roll" from The Best of Louis Jordan
Harold Richardson "Don't Fence Her In" from Sunshine Jamaican Mento Magic
Fred Astaire "Night & Day" from Golden Hits of the 30s & 40s
Marlene Dietrich "Ich bin von Kopf bis Fuss auf Liebe eingestellt" from The Essential Marlene Dietrich
Judy Garland, Ray Bolger, Jack Haley & Bert Lahr "If I Only Had A Brain" from Judy Garland, Vol. 2 – The Wizard of Oz & Easter Parade