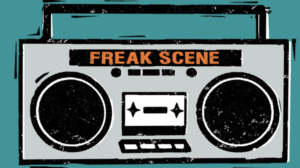 Hosted by Randy B.

Listen to Freak Scene with Randy B.
Fridays 6-8 a.m. on WSUM!
Dick Powell "Pettin' In The Park" from Lullaby Of Broadway
Benny Goodman "One O'Clock Jump" from The Great Benny Goodman, His Orchestra, Sextet, and Quartet
Count Basie "Jumpin' At the Woodside" from Columbia Jazz: Count Basie, 1936-1961
Al Hirt "Java" from Honey In the Horn
Ray Conniff And His Orchestra And Chorus "Some Enchanted Evening" from Broadway In Rhythm
Ella Fitzgerald "Nice Work If You Can Get It (feat. Ellis Larkins)" from Ken Burns's Jazz
Henry Mancini "Big Band Bwana" from Hatari! Music From The Paramount Motion Picture Score
Joe Harnell His Piano And Orchestra "Fly Me to the Moon" from Fly Me to the Moon and the Bossa Nova Pops
Martin Denny "Pearly Shells" from The Very Best Of Martin Denny
Herb Alpert & The Tijuana Brass "Our Day Will Come" from S.R.O.
Floyd Cramer "Send Me the Pillow You Dream On" from More Country Classics
Billy Vaughn "For Me And My Gal" from Pearly Shells
Frankie Avalon "Why?" from Collection 1954 – 62
David Carroll and His Orchestra "A Gliss to Remember" from Let's Dance
Combustible Edison "Cat O'Nine Tails" from The Impossible World
Hal Blaine's Hollywood Drum Band "The Beat Goes On" from The Wrecking Crew
Duane Eddy "Fuzz" from Especially for You
Nancy Sinatra & Lee Hazlewood "Sundown, Sundown" from Nancy & Lee
Trinidad Tripoli Steel Band "Alley Cat" from Steel Drums
Benny Goodman "My Blue Heaven" from 78 RPM Single
Bert Kaempfert and His Orchestra "A Swingin' Safari" from Bert Kaempfert's Greatest Hits
Chy and Tatiana "Wear Sunscreen"
Esquivel and His Orchestra "That Old Black Magic" from Other Worlds, Other Sounds
Percy Faith "(There's) Always Something There to Remind Me" from Plays Latin Themes for Young Lovers
Bert Kaempfert and His Orchestra "Three O'Clock in the Morning" from Blue Midnight
Frank Sinatra "Strangers In the Night" from Frank Sinatra's Greatest Hits
Roy Orbison "Love Hurts" from The Monument Singles Collection (1960-1964)
Living Marimbas "Scarborough Fair" from Love Is Blue
Louis Armstrong "Dream A Little Dream of Me" from What a Wonderful World
Frank De Vol and his Rainbow Strings "I Wonder Who's Kissing Her Now/Paper Doll" from More Old Sweet Songs
Jackie Gleason "I'm In The Mood For Love" from Music For Lovers Only
Longines Symphonette Society "Everybody's Out Of Town" from The Best Songs Of 1970
George Shearing "The Girl From Ipanema" from Here and Now
Herb Alpert & The Tijuana Brass "And the Angels Sing" from !!Going Places!!
Ray Conniff And His Orchestra "Love Is A Many-Splendored Thing" from Hollywood In Rhythm
Bing Crosby "The One Rose (That's Left My Heart)" from Star Dust
Ray Charles "Makin' Whoopie" from The Legend Lives…
Frank Sinatra and Count Basie and His Orchestra "I Only Have Eyes for You" from Sinatra-Basie: An Historical Musical First
Sir Julian "A Man and a Woman" from Ultra-Lounge, Vol. Eleven: Organs In Orbit